When you go hunting, the best adventures come with friends. On separate quads or ATVs, though, how are you supposed to strategize or even communicate? A side by side or UTV, AKA an ROV or MOHUV in some circles, lets you carry people and gear while traversing steep and rocky terrain.
Here we'll look at the best side by side UTV for hunting so you can upgrade your hunting experience. Stop hauling your gear by hand and hop into one of these side by side UTVs.
Bottom Line Up Front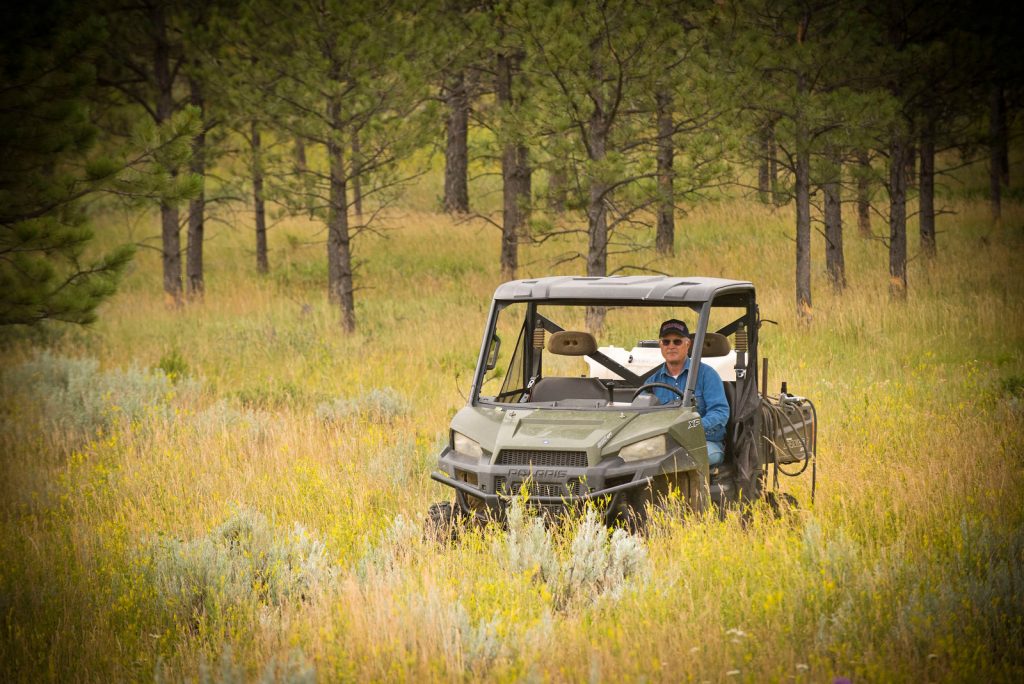 Wherever (and whenever) you plan your hunting trips, Massimo Warrior 700 is our top choice for the best UTV for hunting. Excellent ground clearance, a roof rack, sturdy steel frame, and single-cab three-passenger design are just a few perks.
Not sure the Massimo Warrior 700 is the perfect fit for your next hunting trip? Read on for more on the different types of UTVs for hunting and how to find the best one for your needs.
Different Types of UTVs for Hunting
While UTVs (Utility Task Vehicles) are not quite as common as ATVs (All Terrain Vehicles), these sportsman vehicles are taking over the outdoor recreation world. Here's everything you need to know about the different types of UTVs for hunting.
ATV versus UTV
What is a UTV, and why is it different from an ATV? Part of the answer lies in the name—UTVs also go by the title "side by side." You ride side by side next to the driver while riding as a passenger in a UTV. In contrast, ATVs have straddle seats, so your hunting companion would steer while you sat behind them.
ATVs typically work best for a single rider—especially when both are trying to carry hunting rifles or other equipment. Other ATVs do a decent job of accommodating multiple passengers, but it's still not ideal if you want to keep an eye out for critters while driving. Hundreds of ATV-related deaths happen per year per state, too, which is a crucial consideration when deciding on an ATV versus UTV.
UTVs provide easier handling—like a car—and pack safety features like seatbelts and the option for windshields and roll bars. Your UTV can maintain higher speeds than an ATV, though it won't handle rough terrain quite as well.
UTVs for Hunting
Most UTVs for hunting come in camouflage patterns and can handle passengers and cargo. Apart from those features, a wide range of options exists. Hunting UTVs typically include mounting accessories for hunting gear, safety equipment to keep riders protected, and rugged builds to ward off damage from encounters with the outdoors.
How to Find the Best UTV for Hunting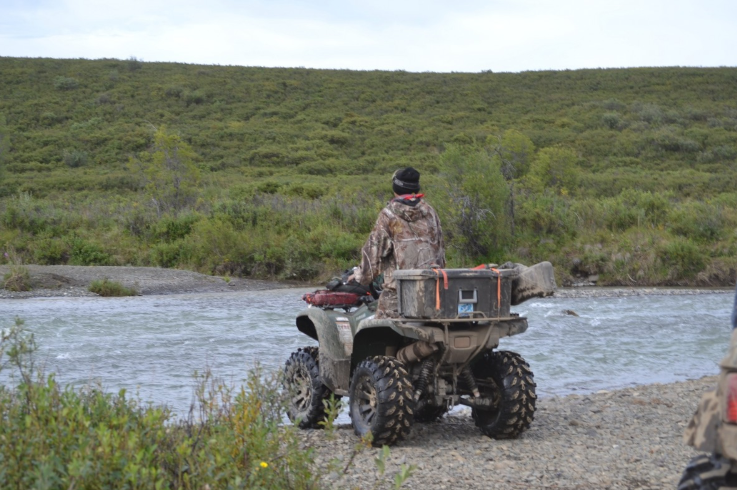 Here's what to consider when shopping for the best SxS for hunting
Space for Gear
Your UTV comes standard with a cargo bed regardless of the make or model. Bed sizing and construction varies from model to model, with some beds offering a dumping feature. For hunting, you may not need such a feature, but it makes sense to look at the type of bed each UTV has to determine if it will suit your needs.
Interior space is another concern, with many side by sides including a center storage console. Because a UTV isn't a traditional on-road vehicle, you can't exactly expect a full dashboard and under-seat storage. You can expect cup holders or at least a storage tray between the front seats, however.
Rugged Construction
Exceptional suspension, rugged tires, and weather-resistant materials are crucial in UTVs. Most of us don't call off a hunting trip because of inclement weather, so you want your transportation to stand up to rain, wind, and mud, among other conditions.
Aesthetic features aren't a bad thing, but a sturdy body and accommodating suspension should top your list if you're serious about off-roading while hunting. Features like a full windshield can add aesthetic appeal and provide rugged functionality, so consider dual-purpose accessories, too.
Hauling Capability
Depending on what you're hunting for, you might not need a high-capacity hauling bed. For plenty of hunters, the capacity of the bed is the most important aspect of a new UTV. Dumping beds are popular, especially on farms and in agricultural applications, but you'll need to decide whether the feature is necessary to you or not.
Weight limits are a crucial part of the hauling capacity; your UTV will likely come with a max weight limit. If you surpass the limit, you can expect your vehicle's performance to suffer, which isn't fun for anyone.
Passenger Limit
Passenger limits are another essential consideration. Do you hunt alone but prefer a UTV for its utility and relatively easy driving in comparison with an ATV? Would you like to bring your partner or spouse along on trips, but they're not enthusiastic about hiking or riding an ATV? Or do you need to bring a team of buddies along for the trip?
Many UTVs enable you to bring three or more passengers aboard, but again, weighing down a UTV with a two-person capacity isn't ideal.
Ground Clearance
Because tough terrain is often part of the hunting experience, ground clearance is top on many enthusiasts' lists. Crawling over undergrowth and edging along culverts is not only common but it's also often necessary to get you to where the critters are.
A combination of high ground clearance and efficient suspension is central to your ability to hunt wherever you want without having to call for help. For easier terrain, you might not need high ground clearance—another vital consideration before you start shopping for a side by side.
Towing Capacity
Not every hunter needs to tow something behind their UTV, but it's a helpful feature for anyone who needs more equipment than their bed can handle. You may also find a tow hitch helps you get out of tight spots—you can use the leverage of a tow strap secured to a tree to get out of the mud or a pothole.
A winch is another top feature which is helpful for self-help while off the beaten path. Depending on when (grassy meadows or thick woods) and where (early spring or the dead of winter) you hunt, you may find a winch or tow hitch is necessary to your operation.
Safety Features
Plenty of hunters are familiar with riding ATVs or even motorcycles off-road to get to remote hunting cabins or sites. With motorcycles and ATVs, you must gear up to ensure your safety while riding. UTVs are a different beast, though.
UTVs tend to have safety features like seatbelts, head rests, and grab bars to keep everyone in their seats. No matter how rough the road gets, the built-in features of your UTV help protect your body and keep you safe.
From roll bars to full windshields, there are many safety features to look out for on a potential UTV purchase. Rock guards are another common addition and can help keep mud and other debris off passengers, too. Decide what's most vital for your safety and the safety of your passengers and shop accordingly.
Sticker Price (& Maintenance Costs)
The sticker price may factor into your buying decision, but you should also think about future maintenance costs. A low-priced UTV may wind up costing hundreds or thousands of dollars over the sticker price because of equipment failures or mechanical issues.
If you're not handy with tools yourself, you may want to investigate options for maintenance and repairs to your UTV. Many brands have shops in bigger cities, so if you live somewhere remote, it could be tough to track down the right help to solve your UTV problems.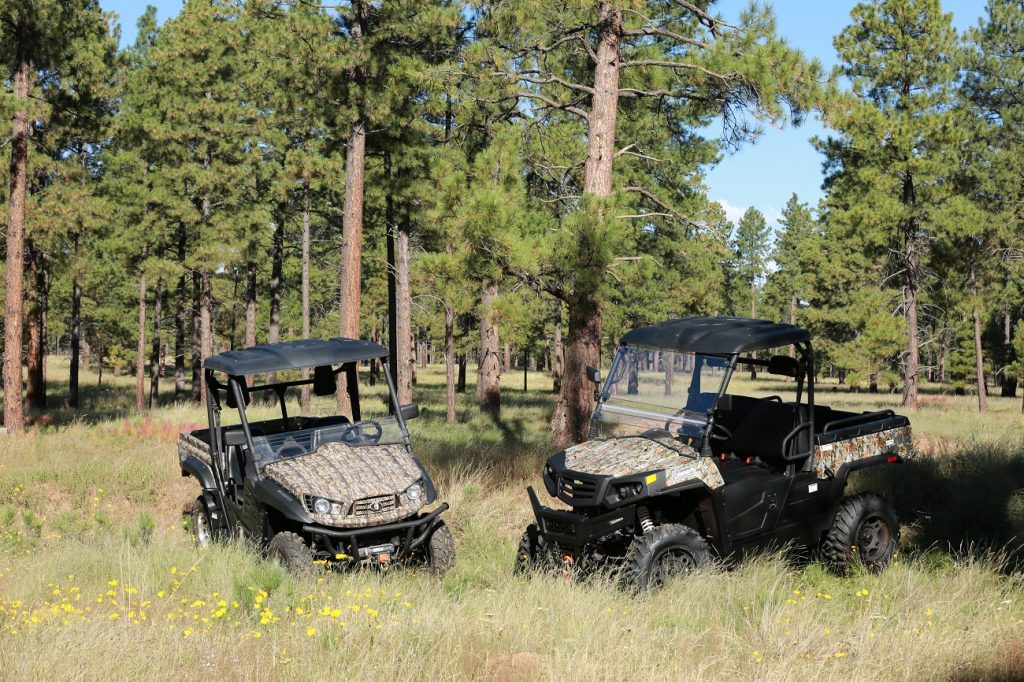 Coleman's Outfitter 500 is just as rugged as it looks. From the ideal ground clearance (11 inches) to the onboard winch, there's nothing you can't do with this UTV.
Electronic fuel injection means reliability and power, while the transmission includes both forward and reverse. Push-button 4WD has you climbing hills in no time, and the Double Wishbone suspension helps with tight spots, too.
Hydraulic disc brakes offer excellent stopping power, and they aren't the only safety feature. Seatbelts, grab handles, and windshield options enhance your wilderness experience. If you need to get out of sticky situations (or help a buddy do the same), a tow hitch and 3,500-pound electric winch can do the job.
Pros:
High ground clearance (11 inches)
Rock guards
Cons:
Half windshield is standard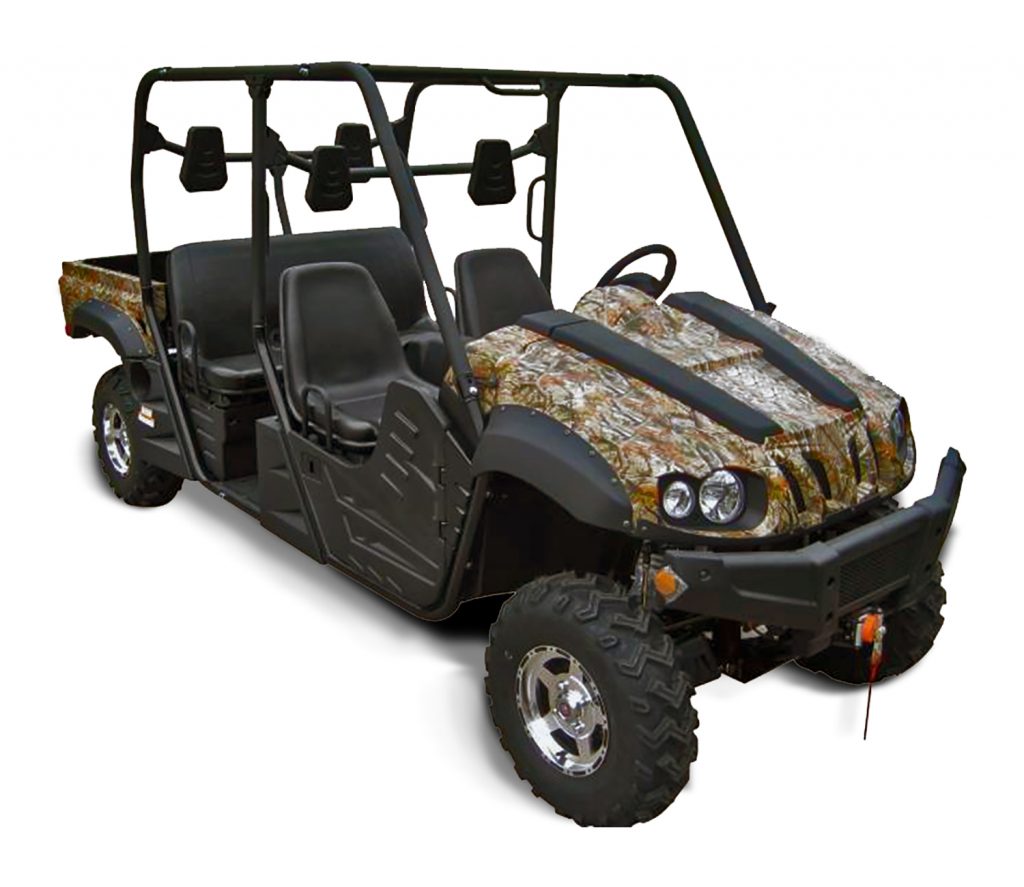 Coleman calls the Outfitter 700-4 a "crew cab" UTV, and it's true there's room for everyone in this four-seater. Its specs are similar to the 500, including the electronic fuel injection, CVT transmission, push-button 4WD and Double Wishbone suspension.
A 3,500-pound winch, tow hitch, and accessory console round out the package. Headrests and handrails keep everyone safe and comfortable, though you won't find seatbelts standard here. Front "doors" protect against splashes and off-trail muck.
Pros:
High ground clearance (11 inches)
Four passenger capacity
Electric winch
Tow hitch
Cons:
No windshield included
Seatbelts not standard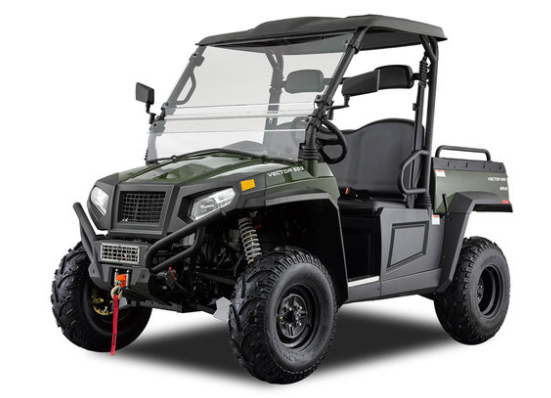 One of the highlights with Vector's 500 is it's customizable to your needs. Sure, camouflage is an additional fee (standard color is a forest green), but everything is optional, and accessories are endless. You can add a soft cab enclosure, spare tire carrier, or gun rack to your custom 500.
Four-wheel drive, locking differential, 3,500-pound winch, and dumping cargo bed are all standard, and plenty of other options are available. Full windshield panels and seatbelts add to you and your passenger's comfort and grab rails help with loading and unloading.
Pros:
Dumping cargo bed
Plenty of accessories available
Windshield is standard
Cons:
Camouflage is an upgrade (additional charge)
Ground clearance is somewhat low (9.7 inches)
No rock guards or doors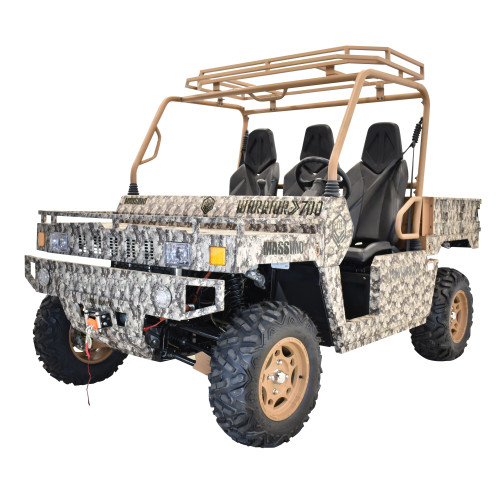 Massimo's Warrior line is the beefiest and boldest of its UTVs. The Warrior 700 gets our vote for many reasons, but the ultimate highlight is its compatibility with optional snow tracks. Even without the snow tracks, you'll enjoy great maneuverability and an incredible 14 inches of ground clearance.
Hydraulic pistons raise and dump the bed, and you have a 1,500-pound towing capacity with the 700. Its overall weight makes it a beast, too: 1,830 pounds is the dry weight. With a wheelbase of 87.5 inches, the Warrior 700 offers a serious footprint (and the sturdy steel frame helps, too).
We love the three-person seating arrangements (it's still a single cab model), seatbelts, and roof rack. A 3,500-pound winch meets industry standards, and 4WD adds to the versatility.
Pros:
Exceptional ground clearance (14 inches)
Snow track compatibility
Three-person single "cab"
Cons: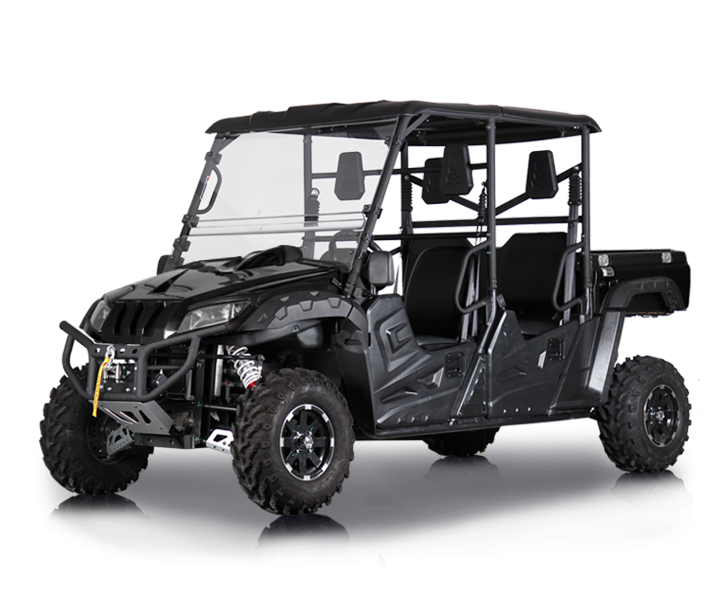 BMS Motorsports produces sport, dirt bike, and enduro models, so it's safe to say they know how to do "rugged." The Colt 700 doesn't disappoint, either: it offers four-wheel independent suspension, front and rear sway bars, a 400-pound capacity dump bed, hard rooftop, and full windshield.
Durability isn't the only focus, though. A stereo, including Bluetooth and MP3 functionality, lets you add some tunes to your ride, and with the four-passenger cabin, you can fit the whole crew.
The front winch is standard while a rear winch is optional, and the front bumper is heavy duty—swing arm rock guards are yet another defense against the elements. Pickup-style cargo doors are a handy perk, and our only complaint is a relatively low rider load capacity. At 800 pounds, the four-person UTV doesn't leave much room for our larger friends.
Pros:
Built-in stereo
Hard rooftop
Rock guards
High ground clearance (11.2 inches)
Cons:
Rider load capacity is 800 pounds (for four occupants)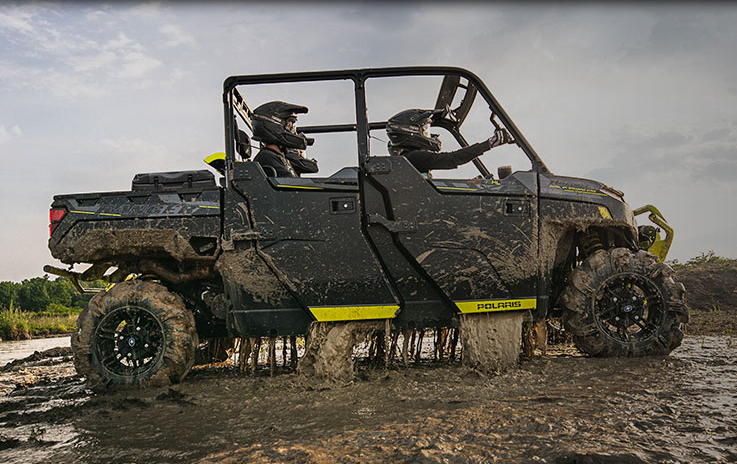 Polaris may offer an entry-level UTV for a range of applications, but its special-edition XP 1000 High Lifter is anything but ordinary. It comes in either three-seat or crew sizes, but both models come with half doors (with one-inch water drains) and other mud-specific features.
28-inch Outlaw tires make the best of muddy situations and mudding bumpers mean business. An 82 HP engine means there's no way you're getting stuck no matter how deep the mud is. You also have 13.5 inches of ground clearance to work with—with 11 inches of suspension travel to boot.
Tow 2,500 pounds, load up with 1,500-pound payloads, and avoid undercarriage damage with a full-chassis skid plate. Really, our only complaint is the lack of a camo (or even forest green) color option.
Pros:
13.5 inches of ground clearance
11 inches of suspension travel
Crew option accommodates six occupants
Cons: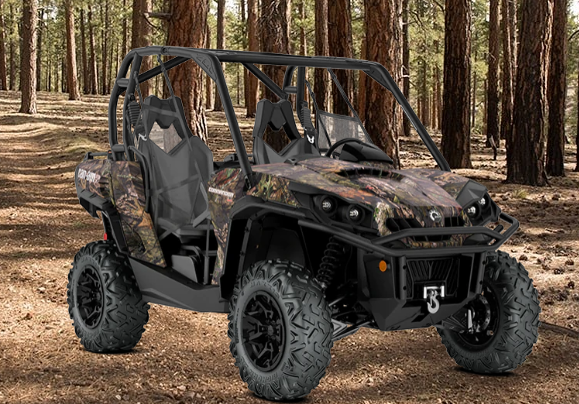 Can Am is an industry leader in innovative three-wheel technology, but they also offer rugged hunting-ready UTV models. Its Commander line looks sporty, but the XT focuses on the rider and delivers an optimal experience and plenty of power.
Intelligent Throttle Control (ITC) helps keep your ride smooth, even with bumps in the road, cutting out unwanted bounces and keeping your travel even. Choose between Progressive and Sport modes and focus on the experience while the Commander takes care of the rest.
Independent rear suspension is another industry first, eliminating scrub and camber changes. The result? Go where you want to go, not where the road tries to take you. Ten inches of travel in the front end let you maneuver nearly anywhere, and 27-inch tires deliver a smooth ride and great climbing power.
Cargo capacity is another highlight; a 600-pound capacity, dual storage levels (with independent tailgates), and tilt-assist dumping are welcome additions.
Pros:
11 inches of ground clearance
Dual bed storage levels (and tailgates)
Intelligent Throttle Control
Cons:
Rock guards aren't standard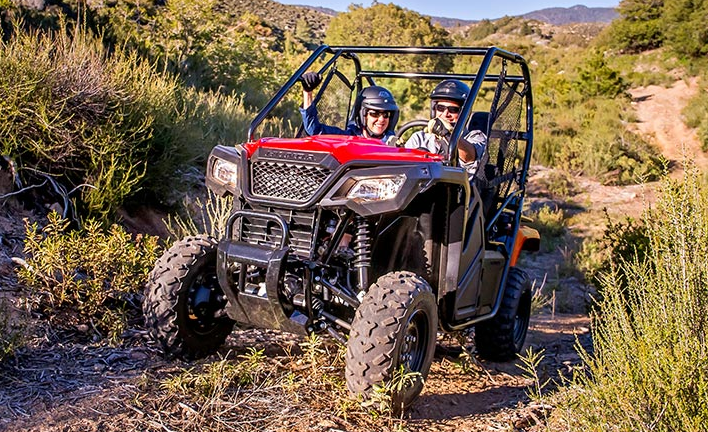 Honda is another brand which has come a long way in the Powersports arena. Its Pioneer 500 UTV includes throwback features like paddle shifters (automatic transmissions are still standard) but brings things into modern times with dual-rate springs, independent rear suspension, and rollover protection.
At 50 inches wide, the Pioneer 500 is the trimmest side by side you'll find, and it can go nearly anywhere. A narrow width means room for only two riders, but even this small UTV can tow 1,000 pounds and manage nearly any terrain.
You do sacrifice a bit with a slight footprint: ground clearance is a low 8.5 inches. If the 1,000-pound curb weight is appealing, though, you may want to give the Pioneer 500 a second look.
Pros:
Compact; fits in a full-size pickup bed
Single-construction door and net operate together
Cons:
Ground clearance is only 8.5 inches
Comparing the Options
UTV

 

Highlights

 

Drawbacks

 

Coleman Outfitter 500

 

11-inch ground clearance

 

Lack of full windshield

 

Coleman Outfitter 700-4

 

Crew cab

 

Lacking safety equipment

 

Vector 500

 

Hunting accessory compatibility

 

9.7-inch ground clearance

 

Massimo Warrior 700

 

14 inches of ground clearance

 

No rock guards

 

BMS Motorsports Colt 700 LSX 4S

 

Built-in stereo

 

Low load weight capacity

 

Polaris Ranger XP 1000 High Lifter Edition

 

13.5 inches of ground clearance

 

Single color option

 

Can Am Commander XT

 

ITC handles bumps in the road

 

Lack of standard equipment

 

Honda Pioneer 500

 

Compact size

 

8.5-inch ground clearance

 
Final Thoughts
For most hunters, finding the best side by side or UTV is challenging. Everything is camo-pattern and every UTV begins to look the same after a while. By focusing on a few main priorities—including desired ground clearance, safety features, and utility—you can narrow down the options and find the best SxS for your needs.
Lesser-known brand Massimo gets our vote as the best in class. The Massimo Warrior 700 is a UTV with a satisfyingly high 14-inch ground clearance plus onboard features to accommodate every hunter's needs. Wherever you go, the Massimo can get you there—and hold all the necessary gear—in style.