Ask any angler, and they'll be able to regale you with their tales of fishing for bluegill with a few worms and their first rig. Whether it's your first day fishing or your thousandth, going out for bluegills is always tons of fun, and thanks to their unfussy nature, even novice anglers should have no problem hooking fish.
Since bluegills will eat practically anything you put in front of them, many different styles of bait work for bluegills, including live and artificial baits. Let's take a closer look at how you can select for best lures for bluegill fishing and learn more about some seriously deadly bluegill baits.
Bottom Line Up Front
Each lure we'll cover below makes a seriously great choice for fishing bluegill. Depending on the conditions you're fishing in and what the fish seem partial to, you may have better luck with one bait or lure over another.
One bait that will bring you consistent results and plenty of fish even when other lures are falling short, BOOYAH Bait's Pond Magic spinner is your best bet.
Types of Bluegill Bait and Lures
From live and artificial worms and grubs to small-scale lures, jigs, and plastics, bluegills are usually happy to indulge in whatever you put in front of them. If you told me you were pulling in bluegill with pieces of hot dog, it wouldn't be surprising.
While some anglers swear by the tried-and-true nightcrawlers and leaf worms, many of today's artificial baits are engineering marvels, and in some cases, a work of art. These examples are all highly popular lures that will help you fill your frying pan with bluegill filets at the end of the day.
Hard Baits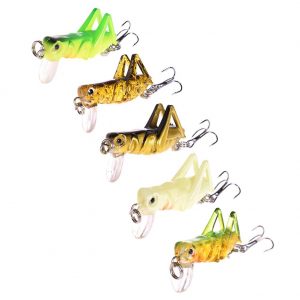 Hard baits are exceptionally popular for bluegill fishing, and there are plenty of beautiful specimens that bluegills and other panfish love. From minnows and other baitfish to flies and insects, hard bait lures mimic many of a bluegills favorite foods, and they're difficult to resist.
There are tons of different hard baits on the market. For bluegills, poppers and surface baits are usually the most effective.
Spinnerbaits
From in-line spinners to more classic options, spinnerbaits are a popular choice that many anglers reach for when fishing for bluegills. These lures feature a propeller-like metal piece which spins in the water, creating varying levels of motion, vibration, and flash. To bluegill, this appears just like schooling baitfish and seems like a perfect meal.
Soft Baits
Soft baits are another exceptionally popular choice that many fishermen swear by. Soft baits can be made in the likeness of worms, grubs, flying insects, fish, shrimp, and more. Sometimes, a soft bait is used with a spinnerbait to create more interest from fish.
Jigs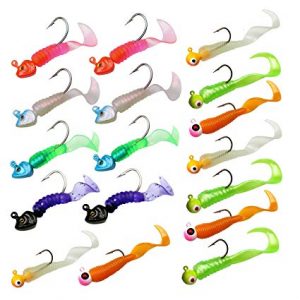 Jigs have always been a popular way to snag bluefish, and today's options are a serious advancement over past models. Two and three-arm versions more closely replicate a group of baitfish, and since bluegill aren't fussy, those couple of fish look like a perfect dinner.
There's also still plenty of classic lead head jigs that are also tough for bluegill to resist. Available in a variety of different configurations, including ones you can build yourself with your choice of soft bait, there's plenty of opportunities to get creative when you're fishing with a bluegill jig.
Live Bait
Bluegills are also partial to tons of different live baits as well, including nightcrawlers, wax worms, beetles, and especially crickets. While crickets aren't always found in most bait shops, many anglers consider them their secret weapon when they're hunting for prize bluegill.
Of course, live baits represent a whole range of different headaches, and fishing with insects can be especially difficult for beginners to master. For this reason, most anglers stick with different lures or artificial soft baits. Artificial soft baits, in particular, are actually preferable to the real thing in many different situations.
The Best Bait for Fishing Bluegill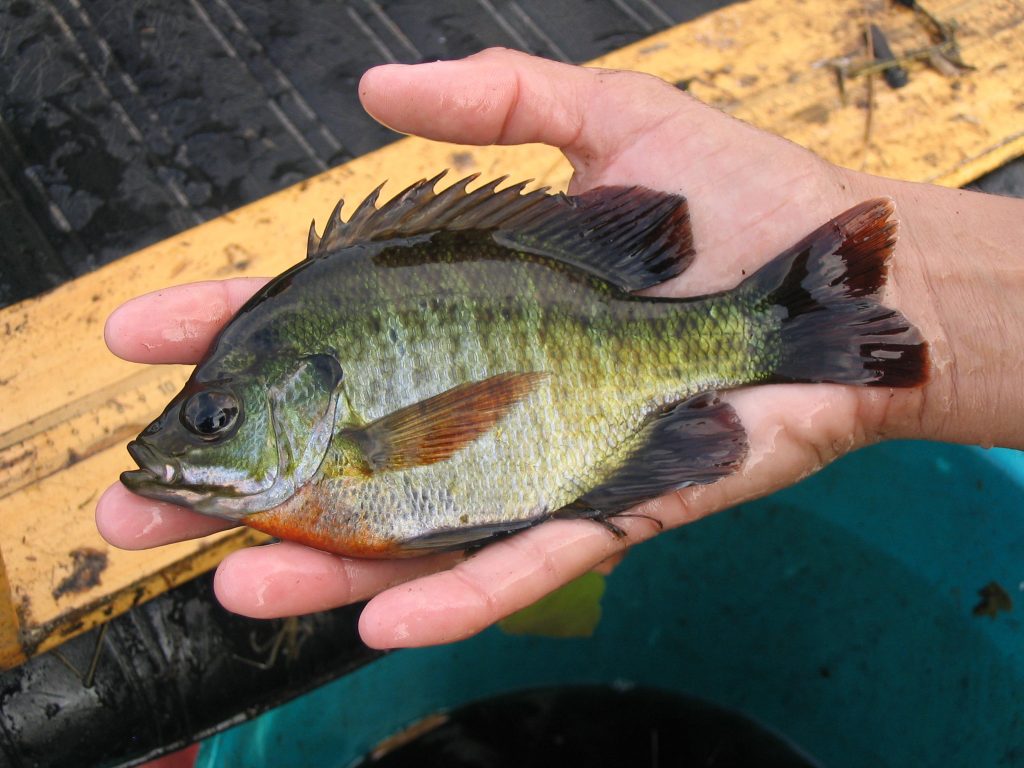 To make it easier for you to select a great bait for bluegill, we've rounded up our favorite spinners, jigs, hard baits and soft baits for you to look at in greater depth. Check them out below!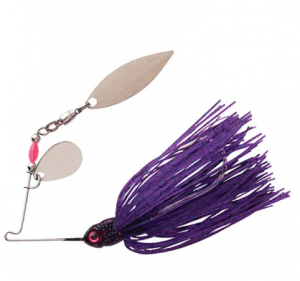 BOOYAH Bait is well known in fishing circles as being a quality purveyor of affordable fishing lures, and their ultra-light spinner, the Pond Magic is a top lure for fishing bluegill. This lure combines high-level craftsmanship and quality components with a low price, and most anglers keep several of these spinners in varying weights at the ready in their tackle box.
These baits feature plated blades in either nickel, copper, or brass, and some have eye-catching UV graphics that humans and fish alike will get hooked on. Each of the different lures in the Pond Magic series features colors that match the forage base, making for a more natural presentation and an even more enticing bite for bluegills.
The tandem blades provide impressive water agitation given the diminutive size of this lure, and it also offers quality components like 2/0 Mustad hooks and a 60-blade silicone skirt to shield the hook from view.
Despite the high quality and impressive components used to make these lures, they'll only set you back a couple of bucks each, making them one of the most effective and affordable lures you can buy to fish bluegill.
Pros
Targets a wide variety of panfish and even bass
Quality components
Wide variety of eye-catching colors and platings
Cons
Can be tricky to pull correctly
Quite small – difficult to attract larger panfish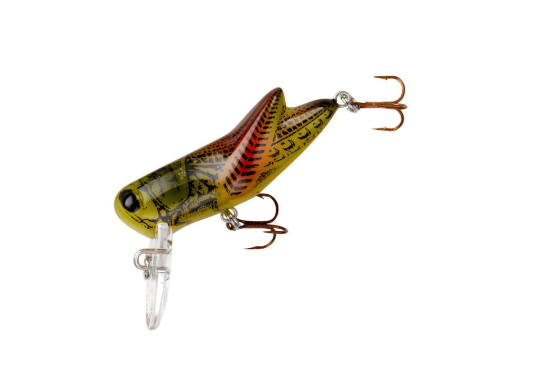 An ultra-realistic hard bait that can be used as either a topwater bait or crankbait, one look is all it takes to realize why this lure is so popular. With a level of realism that makes you think twice about whether it's a lure or a real insect, Rebel's Crickhopper is one of the most popular bluegill lures on the market.
These 1 ½" lures are available in a variety of different styles, and each paint job is more detailed and realistic than the last, and multiple grasshoppers and cricket styles are available. Each lure weighs 3/32 of an ounce and is outfitted with #14 treble hooks.
The crickhopper is especially effective for bluegill fishing when it's twitched or popped at the surface, but it's also popular with bass and trout fisherman at depths of up to three feet.
While it features a big lip and was initially designed to be a topwater bait, the large lip will also make the bait dive depending on how you fish it, and that diving action creates an incredibly realistic motion in the water that bluegills are sure to hit on. Since there's really no wrong way to fish the crickhopper, it's a popular lure for experienced professionals looking for a versatile lure as well as novices who are just learning to fish.
Pros
Can be fished in several different ways
Ideal for beginners and seasoned pros
High-quality graphics that won't fade
Cons
Stock hooks aren't sharp enough and should be replaced
A bit too large for small and medium-sized bluegill

As the industry standard for soft baits, Gulp! By Berkley is a no-brainer if you're heading out bluegill fishing and plan on trying your luck with soft baits. For everything from crappie and bluegill to bass and trout, Berkley has been getting it done for expert anglers and beginners alike for decades.
While Berkley's Gulp baits have been well-loved in fishing circles for years, they managed to make further developments with the Alive line of products, which provide an incredibly realistic look, feel, smell, and taste compared with the original Gulp baits.
While many soft baits are scented, most have an oil base which doesn't disperse nearly as well as the Gulp Alive baits. Using water-based attractants, the folks at Berkley have created a bait that provides 400 times better scent dispersion than oil-based attractants.
These baits are available in a variety of sizes to help you target whatever fish you're after, and a seemingly endless array of styles from worms and insects to minnows and other baitfish. For bluegill fishing, we recommend the one-inch variety, in either a worm or minnow configuration.
Pros
Blows other soft baits out of the water
Allows you to fish a variety of different species
Realistic look, smell, taste, and action
Can also be fished on spinners or jigs
Cons
About as durable as live bait
The fish aren't the only ones who can smell this bait – this stuff seriously stinks

One of the most effective jigs on the market, the Slab Daddy Supper from Mr. Crappie is an improvement over the single hook original Slab Daddy, and it provides action that bluegill just can't seem to resist.
This patented jig is available in a variety of colors and features genuine feathers for added realism. The top lure 1/16th of an ounce while the bottom lure is 1/8th, this creates an erratic motion in the water that behaves much more like a real fly would.
The body of these brightly colored lures is made from chenille, while makes it a perfect vessel for soaking up whatever scent you use to attract fish.
Whether you're slow trolling, casting off the dock, vertical jigging or long-lining, the Slab Daddy Supper is an effective lure for bluegill, crappie, and other fish. Thanks to the versatility of this lure, and the nuance you can impart upon its movement, this lure is especially popular with experienced anglers.
Pros
Chenille body holds scent well
Erratic movement really entices bites
Can be fished in several different ways
Cons
Might not produce results for beginners
A bit expensive considering there isn't much to them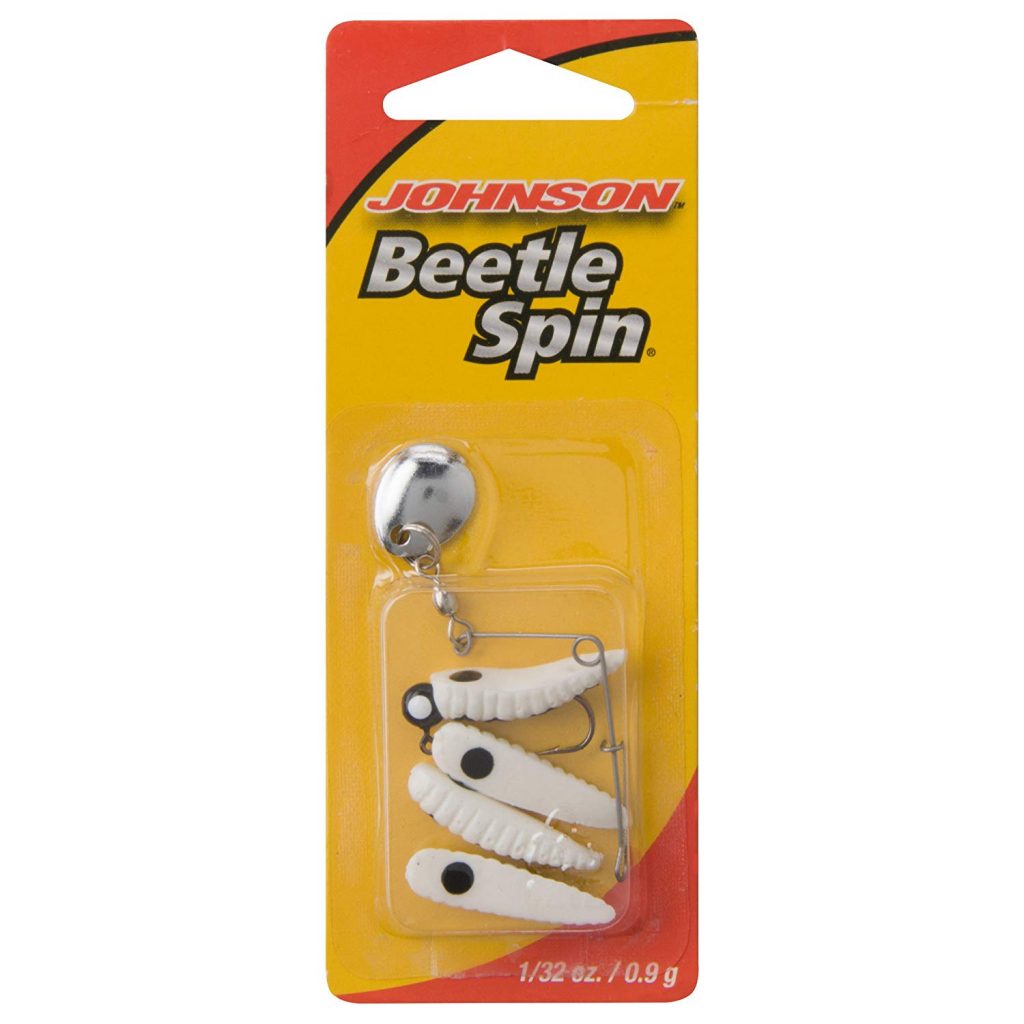 If you're looking for a popular and well-used spinner that countless anglers rely on to hook bluegill, panfish, bass, and other species look no further than Johnson's Beetle Spin lure. This lure features a lead jig head and grub with a nickel-plated spinner that does a great job agitating the water to produce exceptionally realistic action in the water.
Available in a variety of different colors, styles, and sizes including 1", 1 ⅛", 1 ½" and 2" models, Beetle Spin lures are also available in weights ranging from 1/32nd of an ounce to 1/4th of an ounce. For bluegill, we recommend the 1" or 1 ⅛" sizes in 1/32nd or 1/16th of an ounce weight.
Larger sizes are generally too big for bluegill to hit on, but they're quite effective for larger fish. The removable grub is fairly durable, and a replacement is included for when it inevitably gets chewed up by fish. Once you've run through the replacement, you can always get more from Johnson, or use a soft bait from another brand in its place.
This lure is also especially versatile, and you can remove the spinner and use it like a popper or topwater bait as well. Whichever way you choose to use the Beetle Spin from Johnson, you're sure to have no problem hitting on fish in no time.
Pros
Available for around two bucks
Includes a replacement grub
Multiple sizes and styles for fishing many different species
Cons
Split tail configuration only available on larger sizes
Grub can slide up the spinner causing the lure to behave erratically
Best Rig for Bluegill Fishing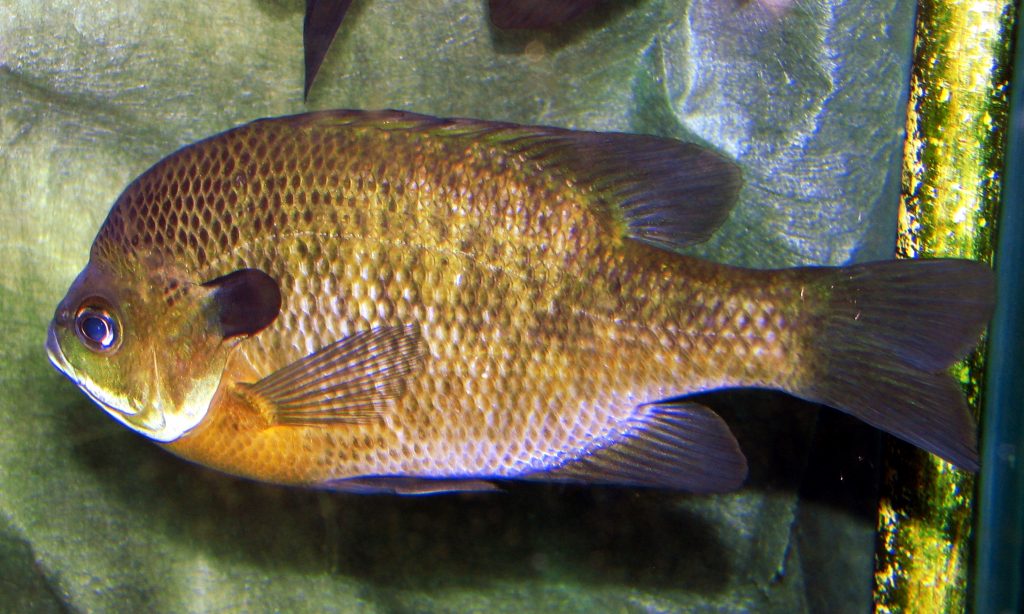 Even if you have the best lure on the planet and the fish are biting heavy, if you're not using the right gear, you aren't going to catch much.
A compact and lightweight spinning rod outfitted with light test monofilament line is usually the best setup for bluegill fishing. Usually, a 3-4lb test line is the best choice in this scenario. If you find that you're having issues with snagging and snapping your line, you can then consider upgrading to a higher test line.
Regardless of the lure, you select, always stay in the 1/32-1/16th of an ounce range in sizes smaller than 1 ½". While larger bait will help you land larger fish, you aren't going to catch bluegill with bait designed to entice a 40-pound lake trout. Keep this in mind when selecting baits, because when it comes to bluegill, smaller is better.
You'll also want to remember that bluegill are schooling fish, and they're often in schools of 10 or more, and other types of panfish are known to school with them as well. So, a bait that attracts a variety of different species can help you maximize and add variety to your fishing bounty.
Where to Find Bluegill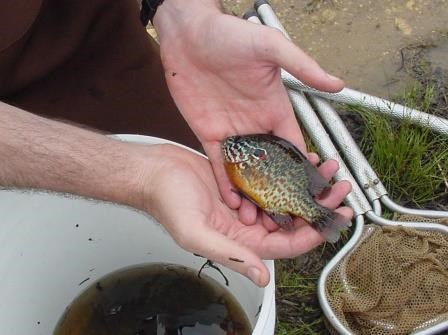 Bluegill can be found throughout North America and they prefer to be in shallow waters or the slower moving sections of a river or stream. When spawning, these fish like to hang out in the nooks and crannies of the seafloor, and will snap at anything that comes near them, making them especially vulnerable during this time.
Bluegills spawn for a particularly long time, and spawning season can last from spring to late fall, depending on conditions in the area. When they aren't spawning, bluegills are especially bold and difficult to spook. They're still happy to bite in any scenario, though.
These fish are easy to identify thanks to their deep and rich color. Bluegill is usually a deep blue cover with gold-colored stripes and a purple face and gill flap. Their bellies are usually a shade of orange or yellow, and they can grow over 12" and up to 4 pounds.
Bluegill Technique
You're here to catch fish, not feed them, but if your technique is off, you'll end up with nothing to show for your bites. Bluegill is especially well known for their bait-thieving antics, so it's easy to lose your fish if you're asleep at the wheel when it bites.
To optimize your bluegill bounty, reel your line in slow and steady, and as soon as you feel a bluegill biting, raise the tip of your rod so set the hook and capture your fish. Meals usually come easy for bluegill, and they aren't used to having to chase their food, so a slow and steady return is going to be critical to your success.
Comparing the Options
No time to get in-depth on the different choices? This chart condenses everything you need to know about these five popular bluegill lures.
Lure

 

Type of Bait

 

Price

 

Highlights

 

BOOYAH Pond Magic

 

Spinner

 

$

 

Cheap, super effective, high-quality components

 

Rebel Lures

Crickhopper

 

Surface bait

 

$$

 

Looks just like the real thing, easy to fish, multiple styles and sizes available

 

Berkley Gulp! Alive!

 

Soft bait

 

$

 

Supercharged scent dispersion, perfect for fishing many species, so easy it's practically cheating

 

Mr. Crappie Slab Daddy

 

Jig

 

$$

 

Chenille body absorbs scent, real feather tails, erratic motion

 

Johnson Beetle Spin

 

Spinner

 

$$

 

Plenty of bang for your buck,

perfect for bluegill, bass, and other species, Great spinning action

 
Final Thoughts
When it comes to fishing for bluegill, you should have great success with everything from nightcrawlers to high tech lures. It's tough to beat fishing with artificial baits for their convenience and ease of use, and that's usually what we reach for when we're out for bluegills.
Since these panfish aren't too picky when it comes to what they eat, you should have no trouble packing out your camp or boat with bluegills with one of the best bluegill bait options above.
Recommended Reads: