As one of the most enjoyable American pastimes of all, fly fishing is a great way to spend an afternoon on the water. Whether you're fishing for trout, salmon, bass, or bluegills, all you'll need to get started is a fly fishing rod and reel, a net, a few flies, and a fishing vest.
Fly fishing vests are a practical requirement for fly fishing, and they ensure that you'll have all the things you need the most at the ready whenever you need them. While a vest is a sometimes-overlooked piece of equipment, having one can make or break your trip, and a quality vest will last for many years to come.
Today, we'll take a closer look at what you need to know to select the best fly fishing vests and check out some of today's most popular options.
Bottom Line Up Front
If you're in a hurry to pick up the best fly fishing vest so you can get out and get to fishing, you can't go wrong with the Big Horn Vest from the Allen Company. This vest provides exceptional value, tons of specialized storage, and unmatched breathability and ventilation without compromising on durability.
A fully adjustable suspension system allows most anglers to achieve a custom fit, and once you're ready to go, you'll find everything you need right where you need it with all the utility pockets this vest possesses.
Or, if a more traditional vest is what you prefer, the Master Sportsman vest offers 26 different storage pockets and an unbeatable price that blows most other vests out of the water.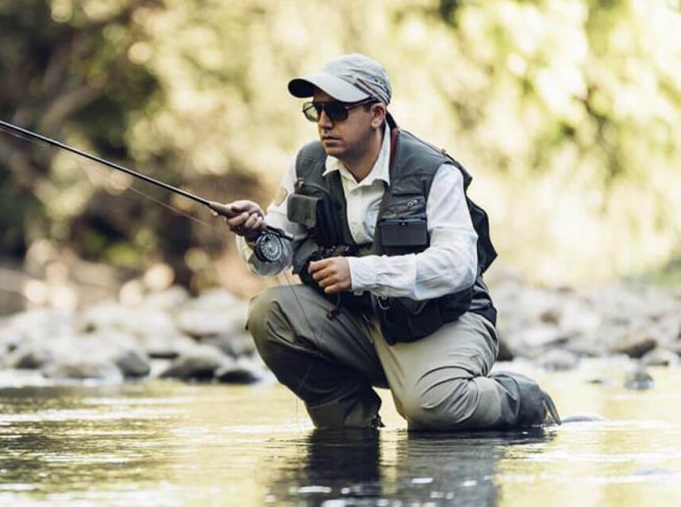 Different Types of Fly Fishing Vests
As you shop for a fly fishing vest, you'll notice that vests fall into one of two categories, which we'll call traditional and modern.
Traditional fly fishing vests are lightweight models that feature several pockets throughout the vest's front for storing the bare necessities of fly fishing.
Modern fly fishing vests provide additional functionality that's beyond that of a traditional vest. These vests often offer additional storage compartments on the back of the vest, space for a hydration sleeve, and tactical zippered pockets throughout the front of the jacket. These jackets are typically heavier and less breathable than the lighter traditional style vests.
The best type of vest is a matter of personal preference and how you fish. Anyone who is hiking to a lake or stream to fly fish may find the additional features of a modern vest are a welcomed addition. If you're fishing from a boat and don't necessarily need all that extra storage in your vest, a traditional vest may be better for you.
Fly fishing vests are also available in a variety of materials. Most commonly, polyester fabrics or nylon are used. Mesh is also a popular fabric, either in conjunction with other fabrics or as the main fabric of the vest. Mesh is lightweight and allows for more breathability, but it's less durable than other fabrics, especially nylon.
How to Choose the Best Fly Fishing Vest
When shopping for the best fly fishing vest, there are several criteria that will help you narrow the field so you can select an ideal vest for how you fish. Here's what you should look out for:
Pockets and Storage
Nothing is more critical when shopping for a fly fishing vest than pockets. After all, if you didn't need to store a bunch of different tools and gear for immediate access, you wouldn't need a vest in the first place.
Choosing the pockets you like is a matter of preference. In your search, you'll find pockets with Velcro, zipper, or button closure uncovered slit pockets and a variety of different sizes and shapes.
Additional storage solutions like a rod loop, net holder, D-rings and gear and knife lashes make your vest even more versatile and ensure that you'll always have the tools and equipment you need at the ready when you need it.
When shopping for the best fly fishing vest, be sure to find one that provides pockets that are secure, large enough to store all your gear, and easy for you to access on the fly.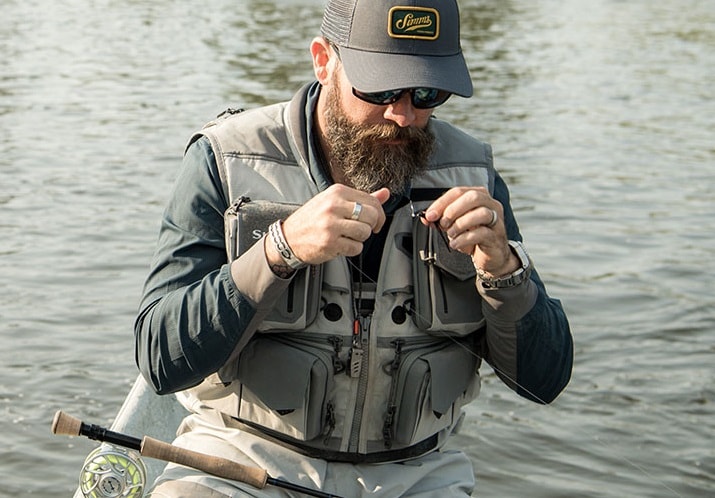 Style and Fit
Style and fit are also important concerns you'll need to address when shopping for a fly fishing vest.
Most vests are similar from a style perspective, but fit can differ greatly between models and brands. Fly casting is one of the most artful ways to fish, and it involves quite a bit of motion on the angler's behalf, so it's critical that the vest you choose provides a comfortable fit that doesn't restrict your range of motion.
You'll want a vest where the shoulders are wide enough to support the weight of a packed vest, but also narrow enough as to not interfere with your range of motion when you cast. The vest's armholes should be wide enough to allow you to move freely, without being so wide that they hang low on the back and sides.
Vests are available in a variety of lengths, as well. Hip-length vests are most common, but there are also shorter varieties that hit at the mid-chest available as well. If you're casting from a river or stream, you may find a shorter vest is better for you.
Adjustability
Fishing vests aren't exactly cut like a designer suit jacket, so it can be difficult to find a jacket that provides a truly tailored fit. Thankfully, many of the best fly fishing vests are adjustable so you can dial in a more comfortable fit.
Not only is this useful for optimizing the fit of the vest, but it also provides some insurance in case you gain or lose weight.
The best fly fishing vests allow you to adjust their length and width so that you can tailor the shoulder straps as well as the waist strap to your liking. While these vests are preferred by many anglers, they won't fit everyone. Women, children, and anyone who is especially short or thin may have a hard time finding an adjustable vest that can be tightened enough to fit them.
Durability
Another important thing to evaluate in your search for a fly fishing vest is how durable is it. A well-made fly fishing vest should provide you with years, if not decades of reliable service.
If durability is a concern for you, look for a vest made from heavyweight fabrics such as ripstop nylon that provides reinforced stitching at key wear areas, and high-quality zippers or other closures on all pockets.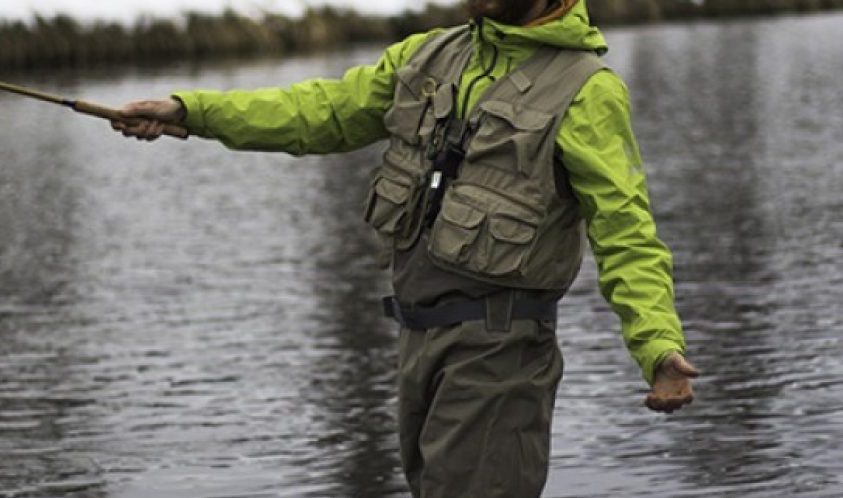 Breathability
A vest that provides ample breathability is especially important if you fish in the hot summer months, as a thick, heavy vest can ruin an otherwise great day fishing in 90-degree heat. While mesh and other lightweight fabrics typically provide the best breathability and ventilation, they're generally much less durable than heavier fabrics.
New technology and better designs have made it possible to have a tough and durable vest without sacrificing breathability. Today's best vests offer mesh panels, gaskets, or other features designed to provide more breathability in key areas without sacrificing the overall build quality of the vest.
Price
Finally, you'll need to consider your budget and the price of the vest before deciding on a fly fishing vest for your needs. You'll find vests available for around $25 and vests available for upwards of $100.
Depending on your needs and the features you're looking for, you may find that a cheaper or more expensive vest is necessary. Thanks to new construction techniques and growing competition, today many of the best fly fishing vests cost somewhere in the $50-75 region.
Top Fly Fishing Vests
With so many different options available, it can be tough to decide on which fly fishing vest is a good choice for you. Based on exhaustive research and time in the field, these five vests are undoubtedly some of the best vests available today.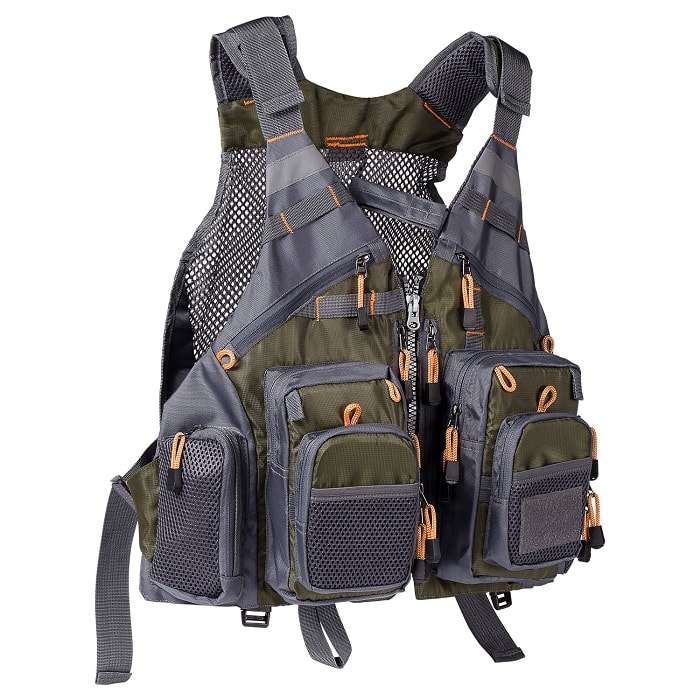 At under $50, it's virtually impossible to find a well-made and durable modern style fishing vest that provides anywhere near the number of features as high-end choices. BassDash is here to change all of that with their new fishing vest which is packed with storage compartments and innovative design features that were once only available on $100+ fishing vests.
This vest features 18 total pockets, 14 of which feature smooth concealed zippers, D-rings and loops for holding your net, rod, strobe, and other accessories, and a knife lash. Each vest provides a polyester front with a full mesh back, and it offers flatlock seams for added durability. You can pick this vest up in green, red, blue, and grey.
A large rear pocket is perfect for a hydration sleeve, and each zippered pocket is specialized for carrying different accessories you'll need to have ready at all times. A fully customizable suspension system allows you to adjust the vest's length, and waist, so one size fits nearly everyone. Check out the latest price on Amazon.
Pros
Tons of specialized storage
Rod loop and net holder
Hydration sleeve compatible
Superior breathability
Cons
One size fits all construction may not work for women, very small or large people
Not as durable as full fabric vests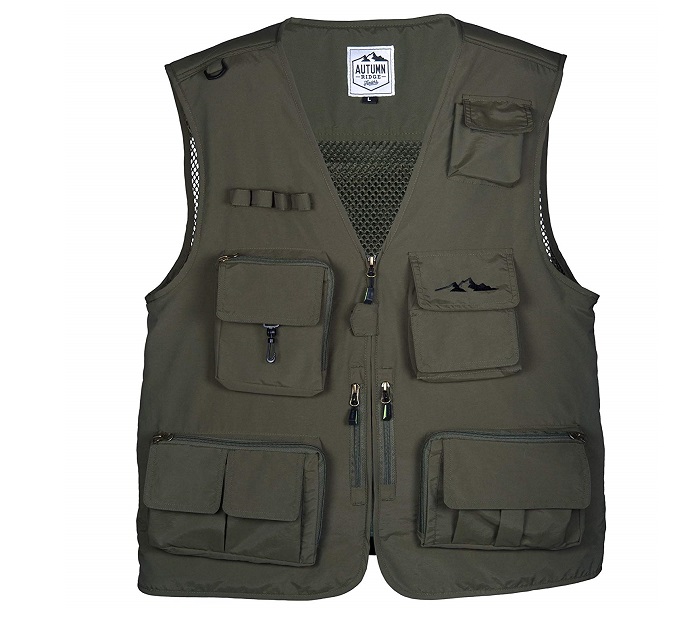 For anglers in search of a no-frills, classically styled fishing vest, you can't do much better than this one from Autumn Ridge Traders.
This traditional fly fishing vest is available in five different colors, including grey, army green, navy, tan, and khaki. Each vest features sixteen pockets with Velcro or zipper closures to make accessing your gear on the fly easy.
The vest is made from lightweight polyester, and the vest's back panel unzips to reveal a full mesh back that's perfect for fishing in the hot summer months. The back-panel stores away neatly in a dedicated storage pocket at the bottom of the vest.
Inside, a full mesh lining keeps things well ventilated, and large hidden pockets allow you to store bigger pieces of equipment safely away. This vest is available in small through 4XL, so anglers of all sizes should be able to find a suitable fit. You may want to read some reviews on fit before buying, as some reviewers have complained that the size chart is incorrect. You can find the Autumn Ridge Flying Vest here on Amazon.
Pros
Plenty of storage
Zip-off back section
Lightweight and breathable
Cons
Sizing is off
Stitching lacks reinforcement in key wear areas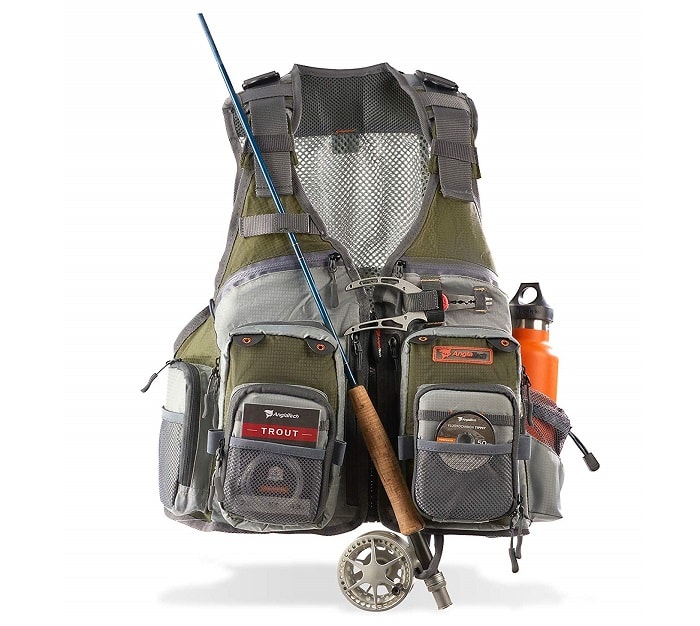 Anglers searching for a top of the line fly fishing vest without venturing into $100-and-above territory will find a lot to like with this full-featured and versatile vest from Anglatech.
This vest scores points for how wide a variety of different pockets it provides. Small and large pockets, mesh and fabric pockets, even water-resistant pockets designed for electronics are all packed inside this high-tech fishing vest. Other intuitive features include an improved forceps holder and a knife lash, perfect for keeping your most important tools within arm's reach.
While the majority of this durable vest is made of ripstop nylon, the rear section is mesh to provide superior breathability and weight reduction. There's a large pocket at the bottom of the back, as well as a water bottle holder at the side for keeping your favorite beverage close by.
This vest from Anglatech also offers a fully adjustable suspension system to achieve a custom fit for people of all shapes and sizes. While it would be nice to see a smaller size available for women and children, most anglers will find that this vest provides them with a comfortable and well-tailored fit. Check out the Anglatech Vest here on Amazon.
Pros
Plenty of specialized storage
Superior breathability
Made from ripstop nylon for added durability
Cons
Might not fit everyone
Mediocre quality zippers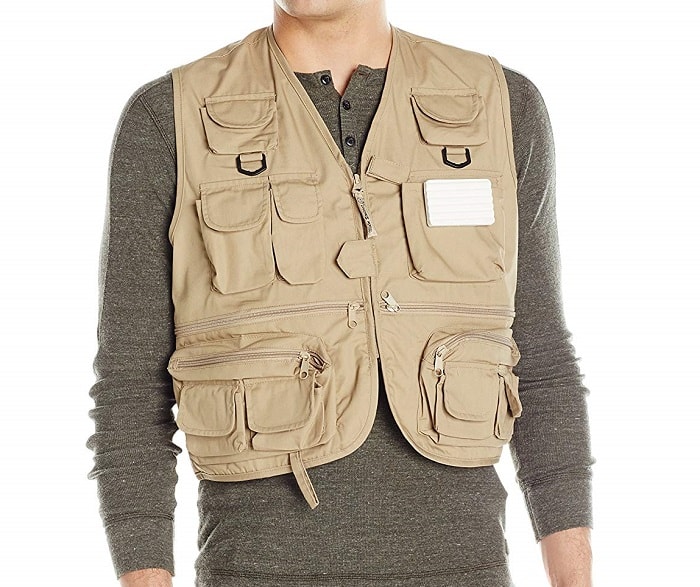 One of the most popular fly fishing vests of all time, this traditional vest from Master Sportsman provides a seemingly endless array of different pockets, and a trim fit that's perfect for wading into the river or stream.
This vest offers a total of 26 pockets in a variety of different sizes, so everything from fly boxes to tiny tools or spare hooks will have their place. This vest also features multiple D-rings and a rod loop for holding your rod and net.
Made from a cotton and polyester blend, this durable vest is also machine washable, so it's easy to keep it looking brand new for many years to come. Available in six different sizes, virtually every angler will find a perfect fit with one of these vests from Master Sportsman. Find the latest price here on Amazon.
Pros
Affordable
Tons of pockets
Rod loop and multiple D-rings
Cons
Hits above the hip – some anglers prefer a longer vest
Runs small – larger anglers may not be able to find a size that fits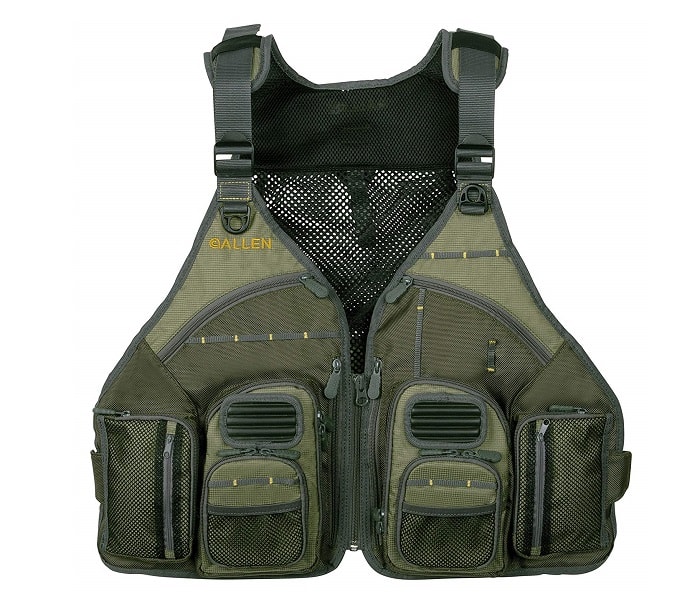 Fishermen looking for the ultimate in tactical performance and breathability may want to take a closer look at Allen Company's Big Horn fishing vest. This vest has all the features necessary to stand against the high-end competitors, and it's available at a price that's significantly lower than other top options.
This vest features matching zip-down work stations on either side of the vest, each with tons of zippered storage, including structured pockets for storing your fly boxes. A MOLLE web gear lash and hemostat dock allow you to store away your most often used accessories easily, and high visibility lining ensures you'll be easy to spot even at night.
The rear of this vest is made from mesh for superior breathability, and this vest also is a bit shorter and less enclosed than other competitors, which adds even more ventilation while also reducing overall weight. A large gear pocket is compatible with most hydration sleeves, and loops on either shoulder strap allow you to keep the hose for your hydration sleeve accessible at all times.
A fully adjustable suspension system allows you to adjust the length and width of the vest, allowing most anglers to achieve a perfect custom fit. Like other one-size-fits-most vests, anglers who are especially small, as well as women and children, might not find a great fit with this vest. Find the Fisherman Vest here on Amazon.
Pros
Superior ventilation and breathability
Plenty of storage
Hydration sleeve compatible
Cons
Doesn't have a rod holder
Might not fit women, children, or small anglers
Comparing the Options
No time to check out our in-depth reviews above? No problem! Check out this handy chart, which provides all the important info you need on these five popular fly fishing vests.
| | | | |
| --- | --- | --- | --- |
| Vest | Price | Style | Highlights |
| BassDash Fly Fishing Vest | $$ | Modern | Specialized storage pockets, rod, and net holders, great price |
| Autumn Ridge Traders Fly Fishing Vest | $$ | Traditional | Classic styling, removable back panel, fully lined |
| Anglatech Fly Fishing Vest | $$$ | Modern | Specialized storage pockets, superior durability, water bottle holder |
| Master Sportsman 26-Pocket Fly Fishing Vest | $ | Traditional | Tons of pockets, machine washable, very affordable |
| Allen Company Big Horn Fishing Vest | $$$ | Modern | Specialized storage pockets, superior breathability, hydration sleeve compatible |
Final Word
With so many high-quality options available, it's easier than ever to find one of the best fly fishing vests on the market. Whether you're shopping for a traditional vest or a more modern vest with tons of specialized storage and advanced features, be sure to select a vest that you find comfortable and will provide you with years of fly fishing enjoy.
If you enjoyed this article check out our guides on how to find The Best Steelhead Fishing Rods & The Best Spinning Rods for Trout