Anglers who are used to fishing in the warm summer months for game fish like bass, bluegill, or catfish tend to have difficulty understanding why anyone would want to wade into the water in the dead of winter in hopes of being lucky enough to get action once or twice a day.
After you catch your first steelhead, it's easy to see why people are so enamored with steelhead fishing. Steelheads are well-known for their stealthy ways, so it's critically important that you optimize your gear in any way you can so you can land more fish each time you're out of the river.
Today, we'll take an in-depth look at everything you need to know to select a steelhead rod, and we'll also check out five of the best steelhead fishing rods that are on the market today.
Bottom Line Up Front
Each of the different rods we'll be discussing below makes a fine choice if you're looking for one of the best steelhead fishing rods. But, only one of these rods can be crowned the best steelhead fishing rod overall, and that designation belongs to the St. Croix Triumph.
This rod provides plenty of value and delivers premium components and high-end looks at a moderate price, and it offers impressive durability for a graphite rod. Available in different lengths and weights to fit the needs of any angler, most fishermen will agree; the St. Croix Triumph is one of the best steelhead fishing rods available today.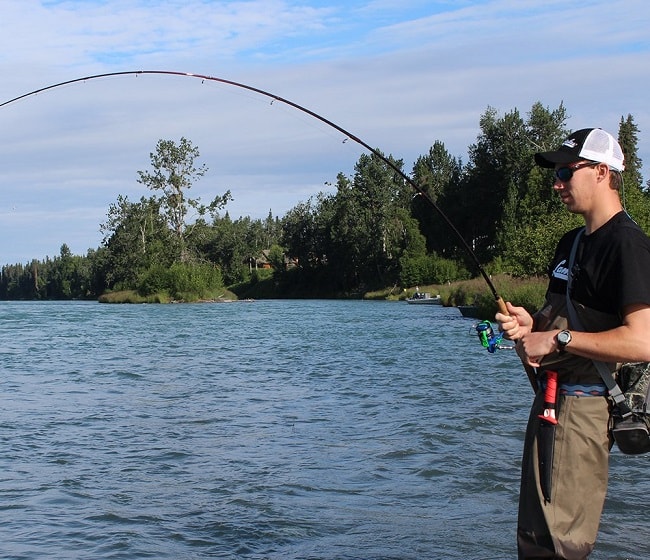 Different Types of Steelhead Rods
When it comes to steelhead fishing, you'll find rods that fall into two categories: spinning rods and casting rods. From there, you'll find rods steelhead rods for two specific styles of fishing: drift fishing and float fishing.
Spinning Rods
With a spinning rod, the reel is suspended to the underside of the rod, and the line guides are also attached to the rod's underside. Each of the line guides is graduated from the largest guides at the bottom to the tiniest guides towards the rod tip. Compared to casting rods, spinning rods tend to tangle less, so they're a wise choice for use by beginners.
Spinners are ideal for many styles of fishing, and many of the finesse techniques that experienced anglers rely on. Spinning rods are ideal for many species of fish, including summer steelhead, and smaller winter steelhead.
With exceptionally large fish, you run the risk of a strong fish ripping out guides as you try and reel them in.
Casting Rods
With a casting rod, the basic mechanisms are the opposite of how they are on a spinning rod. The reel mounts to the top of the rod and the line guides are also mounted to the top side of the rod.
Casting rods aren't quite as easy to use as a spinner, but they aren't especially difficult to master, either.
These rods are favored for hunting trophy fish that are large and ferocious enough to break line guides off of spinning rods, so if you're out for the biggest steelheads in the river, you may be best served with a casting rod.
Drift Fishing Rods
With drift fishing, you cast from an unanchored boat and allow the weather and current do the work for you. Drift rods are popular for steelhead, and many other styles of fish because they can be easily adapted to other fishing scenarios.
While many steelhead fishermen prefer to float fish, learning how to drift is a critical lesson for beginner anglers to learn, and it's where you should start if you're new to steelhead fishing.
Most drift rods are casting rods, although you'll find drift rods designed for use with a spinning reel as well. The key is to decide on whether a casting or spinning rod is best for you before figuring out if you'll be better served with a drift or float rod.
Float Fishing Rods
When most anglers close their eyes and think about fishing, chances are their mind conjures an image of float fishing. Float fishing is a style where your tackle can be deployed at a variety of different depths. A floating bobber at the surface of the water alerts the angler to any bites they receive, even if they aren't detectable by feel alone
This style is one of the easiest ways to fish for steelhead, but if you fish for many different species, you may be better served with a drift rod, which is more able to tackle other fishing styles, whereas a float rod is really only applicable to float fishing.
Most float fishing rods use spinning reels, but you'll also find the occasional baitcasting rod that's designed for float fishing.
For beginners, it's often best to borrow a float rod or purchase an inexpensive one, so you aren't on the hook for hundreds of dollars of equipment if you find that float fishing isn't your preferred way of fishing.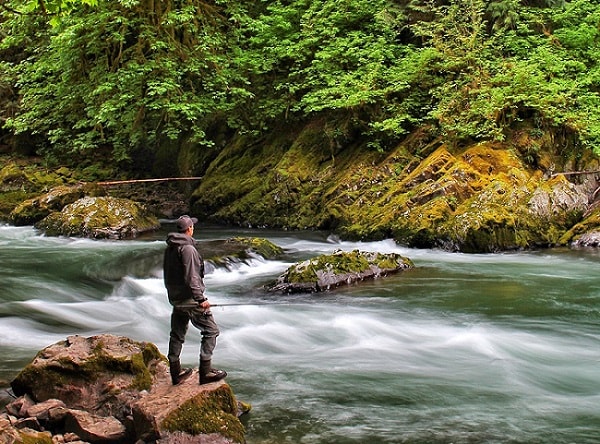 How to Find the Best Steelhead Rods
If you're after a quality steelhead fishing rod, there are several criteria you can use to decide whether or not the rod is a good fit for you and the style of fishing you do. Whether you go with one of the top-quality options we'll cover below in just a moment, or you go off the list entirely, you'll want to make sure that whatever rod you choose delivers on these criteria.
Strength & Durability
If you're like most anglers, you'll be fishing for life. Unless you have a money tree in your backyard, you'll want to ensure that every rod or piece of gear you purchase is going to be able to stand up against whatever the fish are dishing out.
Any well-made rod should provide the durability you need to get the most out of your rig for many years to come. But, an adequately strong rod is going to be critical, especially if you're regularly landing larger fish like trout, salmon, or catfish.
Most steelheads weigh somewhere around ten pounds, making them a fairly large (but not overly so) game fish. A rod that's medium-light to medium will provide the strength you need to reel in fish time after time reliably.
Well Suited for how you Fish
Another critical concern is how well a rod is designed for the way you fish. For example, if you're heading out for catfish but all you have is an ultralight spinning rod, you'll be in for a rude awakening when you land your first fish. At best, you'll have a hard time bringing in a fish. What's more likely, though, is that you'll snap your rod clean in half.
Or, if you're fishing for bass or bluegill with an extra-long and medium-heavy rod designed for pulling in huge winter steelhead, you're going to have a miserable time fishing, as these rods aren't designed to provide the same finesse and nuance of other rods designed for smaller species.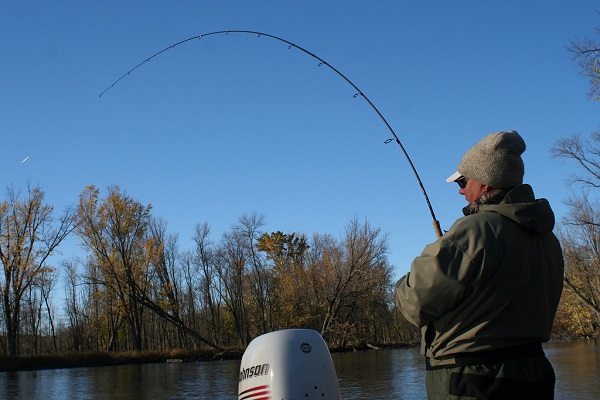 Size & Weight
A rod's size and weight go hand in hand with how well suited it is for the way you fish, and it's another critical consideration to make before you decide on a rod.
Most rods used for steelhead fishing are especially long, with many top rods measuring at well over eleven or twelve feet long. Longer rods reduce the drag on your life, providing the angler with a more comfortable and "in-control" feel as they fish. Longer rods also allow for more accurate casts, so you'll have no trouble threading the needle into a big run of steelhead.
Eventually, rod length becomes a path of diminishing returns, as rods that are too long or heavy are difficult to store and practically impossible to lug around with you if you're wading or fishing from shore.
Most beginner steelhead fishermen opt for a medium weight fast-action rod that's nine, ten, or eleven feet long.
Line Guides
Line guides are easy to overlook, but they're still important components of any steelhead rod. The line guides help you make smooth and accurate casts, how well the force of a fighting fish is distributed across the rod, and how sensitive the rod is. Since steelheads are whisper-quiet nibblers, plenty of line guides makes it much easier to detect when a fish is biting.
As a rule-of-thumb, make sure that any steelhead rod you're after provides at least one guide per foot of rod.
Now that you've learned more about how to find the ideal steelhead fishing rods for your needs let's see some of the best steelhead fishing rods out there.
Whether you're going to be casting, spinning, drifting, or floating, you'll be bombarded with tons of different rods that are designed for catching steelhead. Out of all those rods, these five are our favorites, and anyone of the rods below makes a solid choice for your next steelhead fishing rod.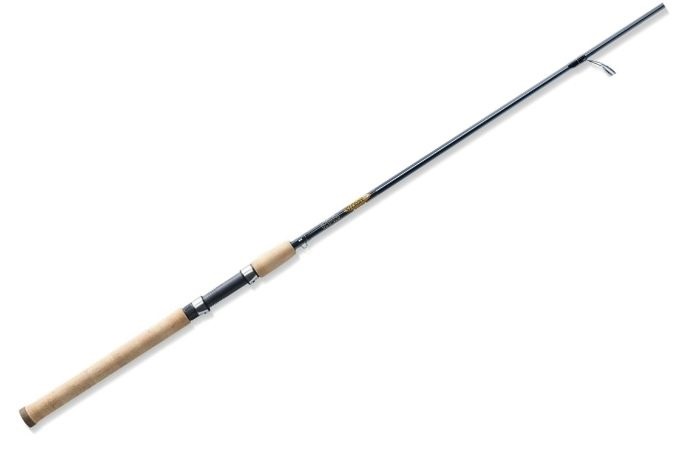 St. Croix is one of the leading manufacturers of steelhead rods, and their Triumph series of spinners are among the most popular in their expansive line of high-end rods.
This model is 8 ½ feet long, making it versatile enough for virtually any freshwater fishing scenario, and it's available in medium, medium-heavy, and heavy power. Depending on your personal preference, you're likely to find that one power or weight is better for you than another, but the medium-heavy and heavy models are best for fishing for steelhead.
Rod blanks are crafted from premium SCII graphite, and the guards are made from aluminum oxide with black frames. A Fuji DPS reel seat provides impressive stability, which is especially helpful when landing bigger fish.
The main grip and foregrip are both made from high-quality cork for unparalleled sensitivity and rod feel, and each one is coated twice with Flex-Coat slow cure finish to provide premium looks while also adding strength and durability to the rod. You can find this steelhead rod here on Amazon.
Pros
Versatile – great for virtually all freshwater species
Two-piece construction for easy transport
Premium components
Impressive sensitivity
Cons
Not as durable as rods made from other materials
Prone to breakage around near rod tip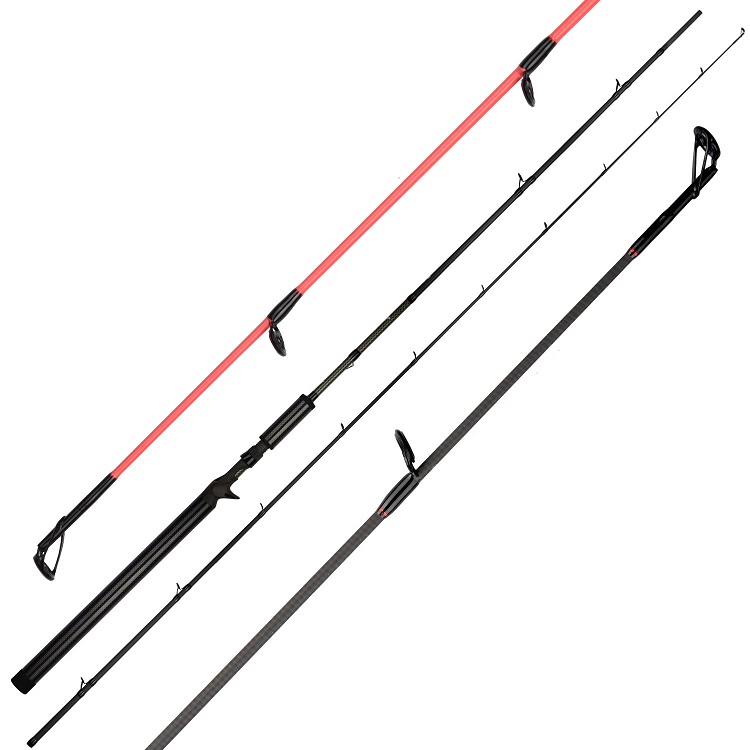 KastKing is known for producing affordable rods that provide a good blend of value and premium features. Their Krome series steelhead rod is one of their higher-end products, and the extra attention to detail that went into its production is easy to see.
The Krome series has a total of fifteen different rods, all designed for specific fishing styles and techniques, and their 9' Alaska King Drifter casting rod is ideal for anyone looking for a rod that's capable of landing even the biggest steelheads reliably.
This rod features a Toray IM8 high carbon blank blended with kevlar and nano-silica, which makes for an incredibly lightweight rod given its size and power. More importantly, it offers durability that's unmatched by light rods made of other materials.
KastKing makes use of genuine Fuji guides and reel seats, and the handle is finished in a beautiful carbon fiber which cleans up very easily. For this rod, KastKing took home the Fish Alaska Magazine Editors' Choice Award. Check out the latest price on Amazon.
Pros
Impressive strength
Lightweight
Premium components
Cons
The handle is beautiful, but it doesn't offer the same grip as more traditional materials
Mediocre warranty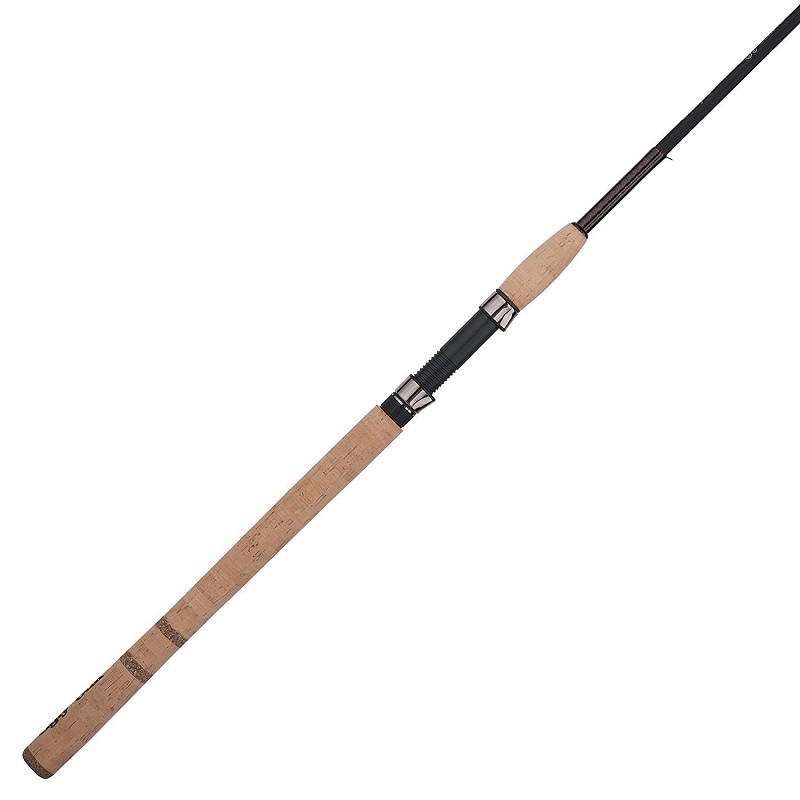 The name Ugly Stik has been synonymous with fishing throughout the world since they were first released in the 70s. More than forty years later, they're still some of the most popular rods around.
Available in a variety of sizes and weights, the 9' medium-heavy Ugly Stik is ideal for fishing steelhead and salmon. If you prefer a heavier or lighter rod, they have you covered there, as well.
The elite model is made with 35% more graphite than the original for reduced weight and greater sensitivity. The clear tip is reinforced to provide additional strength at a key stress point of the rod, and the line guides are made from a single piece of stainless steel, which provides durability and eliminates the problem of inserts popping out of the guides. You can find the Ugly Stik here on Amazon.
Pros
Good value
Light and responsive
Great warranty
Cons
Not as durable as rods with less graphite
Lacks reinforcement at the rod joint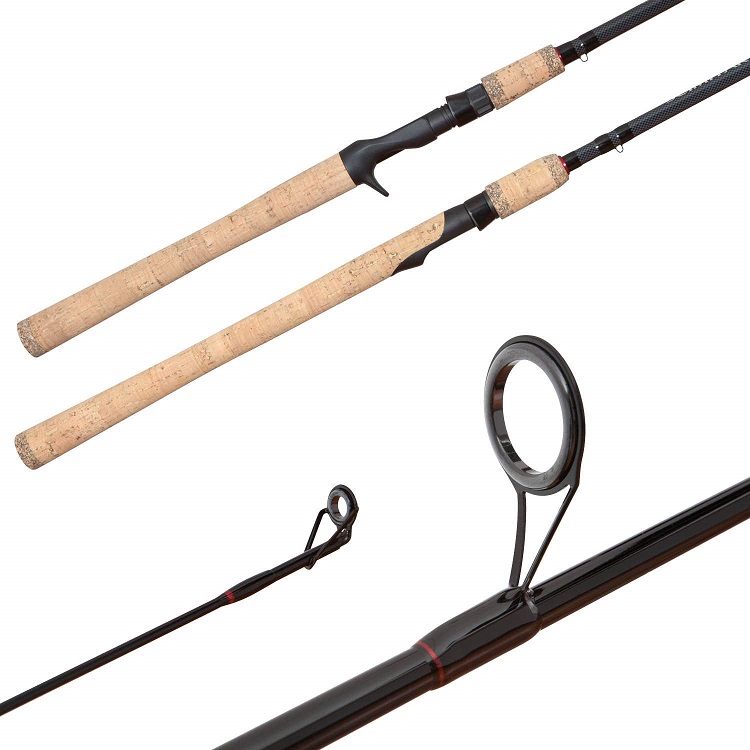 If you're after a high-end looking setup, but you don't have hundreds of dollars to drop on a rod and reel, the Scimitar line from Shimano could be ideal for you. These rods deliver exceptional value and features that are typically unseen in rods at this price.
These rods are lightweight and offer plenty of feel and sensitivity. A cork handle adds to the premium look of the rod, although it isn't quite as durable as handles made from other material, as is prone to cracking.
The Scimitar is available in many weights and lengths, and all rods feature fast action. For steelhead fishing, the 8 ½ and 9 ½ foot models in medium-heavy power are ideal, and with such a wide selection of weights and lengths, you'll be able to find a rod that's perfect for how you fish. Check out the latest price here on Amazon.
Pros
Great value
Premium look and feel
Lightweight and sensitive
Cons
Not especially durable – prone to breakage
Cork handle prone to cracking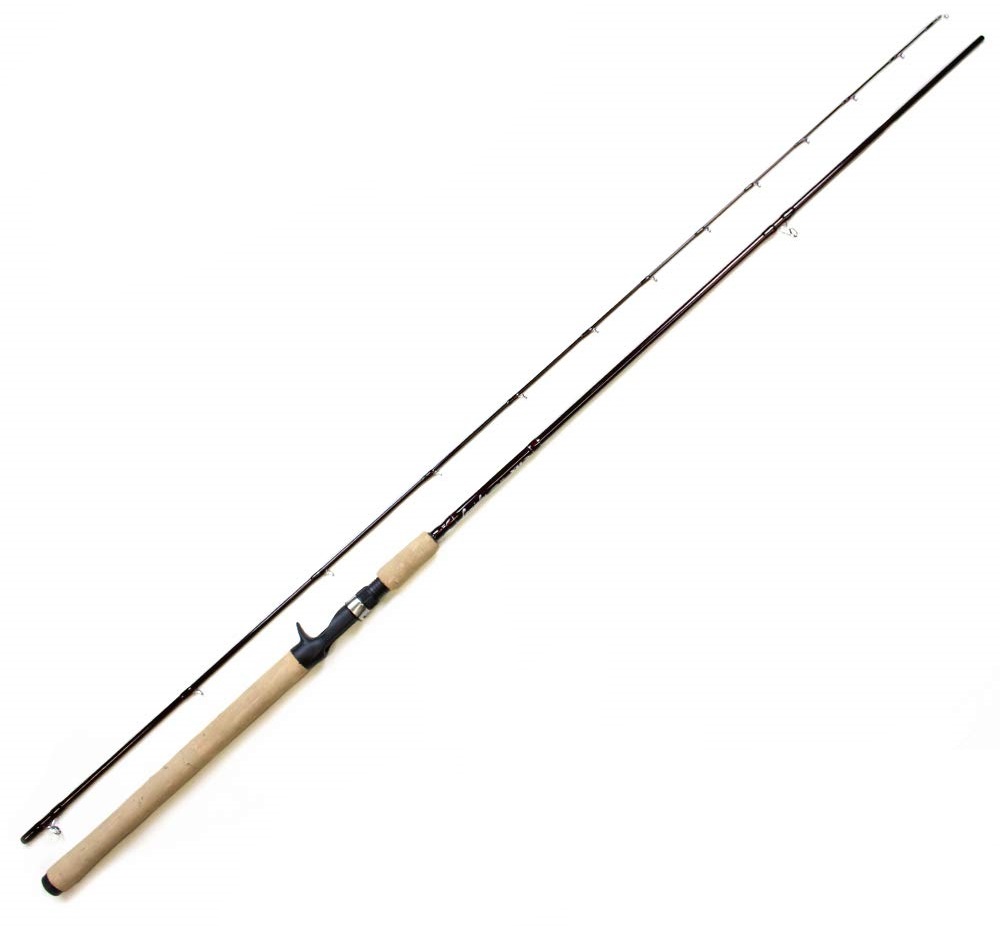 Lamiglass X-11 rods are one of the industry standards, and countless anglers reach for them every time they fish. While there's a dizzying array of different options within the series, the 10 ½ foot steelhead float spinning rod is an ideal choice for serious steelhead anglers who demand durability without sacrificing feel and sensitivity.
X-11 rods are made from IM6 carbon graphite, which provides an incredibly lightweight and sensitive blank. The rods are then outfitted with deep pressed stainless steel guides, a tapered cork handle, and an ergonomically designed exposed blank reel seat.
The placement of the reel seat is ideal for fighting with larger fish, as you'll be able to control your catch with greater leverage and less fatigue.
While this rod is particularly durable for an all graphite rod, Lamiglass only offers a one-year warranty before you're on your own. You can find the Lamiglass X-11 Steelhead Rod here on Amazon.
Pros
Impressive durability for a graphite rod
Lightweight and sensitive
Wide variety of different lengths and weights
Cons
Mediocre warranty
Mediocre guides
Comparing the Options
| | | | |
| --- | --- | --- | --- |
| Rod | Type | Price | Highlights |
| St. Croix Triumph | Spinning | $$$ | Most versatile, premium components, great sensitivity |
| KastKingKrome | Casting | $$$$ | Top-quality components, strong and durable, lightweight |
| Shakespeare Ugly Stik Elite | Spinning | $$ | Lightweight, responsive, great warranty |
| Shimano Scimitar | Casting | $ | Great value, lightweight, sensitive |
| Lamiglass X-11 | Casting | $$ | Durable, lightweight, plenty of length/weight options |
Final Word
Steelhead fishing is one of the most exciting and rewarding ways to fish, hands down. While it's relatively easy to get your start fishing for steelhead, it's important that you select the right gear for you and the way you fish.
Each of the best steelhead fishing rods we've covered above makes a fine choice for any angler looking to get out there and hook some steelheads!
If you're unsure on which of these great rods is going to be best for you, head to your local outdoor outfitter and try some of the best steelhead fishing rods out for yourself.
Recommended Reads