Most anglers will never forget the first time they hooked a catfish. There aren't many fish that fight quite like a catfish does, and if you're used to fishing for bass or bluegills, you're sure to be in for a wild ride when you have a cat on the line.
If you're used to fishing for smaller game fish, you'll probably realize that the rig you're using for smaller fish isn't going to cut it for catfishing. Today, we'll take a closer look at the key factors to consider when selecting a rod, and learn more about some of the best catfish rods that you can buy.
Bottom Line Up Front
While all five of the rods we're going to be looking at in just a moment make a compelling case to be the best catfish rod overall, one rod goes above and beyond to offer the best mix of strength, durability, and features. Our top choice as the best catfish rod is the KastKing KastKat 7' casting rod.
While this rod doesn't offer the most high-end features or state-of-the-art construction methods, it provides the perfect blend of sensitivity, durability, and strength, while still being lightweight enough to thrive in any fishing scenario. If you're looking for a solid catfishing rod that will perform admirably in any scenario, the KastKat may be perfect for you.
Different Types of Catfish Rods
While there are tons of different features and specifications that differentiate catfishing rods, the rods used for catfishing fall into one of these two groups: spinning rods and baitcasting rods. While you can use either type of rod for catfishing, you may find that one style or the other makes more sense for how you fish.
Spinning Rods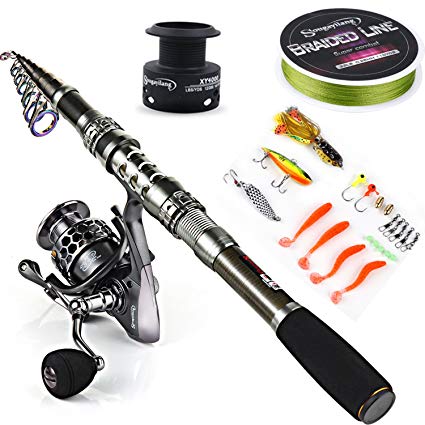 Spinning rods hold the reel on the underside of the rod, and the guides are positioned on the underside of the rod. Each guide is graduated in size from bottom to the top of a spinning rod.
Spinning rods are less prone to tangling so that beginner anglers may prefer a spinning rod to a casting one. While spinning rods are ideal for many styles of small game fishing, as well as some finesse fishing techniques, they aren't as well suited to catching larger fish as casting rods are. With a spinning rod, when a fish hits, the pressure from the line pulls down on the guides, and larger and more powerful fish can easily snap guides off your rod as they fight on your line.
Some spinning rods made specifically for catfishing aim to mitigate the issues associated with using a spinning rod. If you prefer a spinning rod, you may want to look towards one of these rods.
Casting Rods
Casting rods are designed for the reel to mount on top, and the guides are positioned on the top side of the rod. Guides are virtually identical in size throughout the rod. While these rods are slightly less user-friendly than spinning rods, their design makes them favorable for hunting larger fish, like cats.
When a fish hits on a casting rod, the force of the fish is applied across the rod blank, and the pressure is on the rod itself instead of the guides, eliminating the chance of a fish snapping guides off of the rod.
Casting rods are ideal for all types of catfishing, and they're the industry standard for anyone hunting trophy catfish.
E-Glass and S-Glass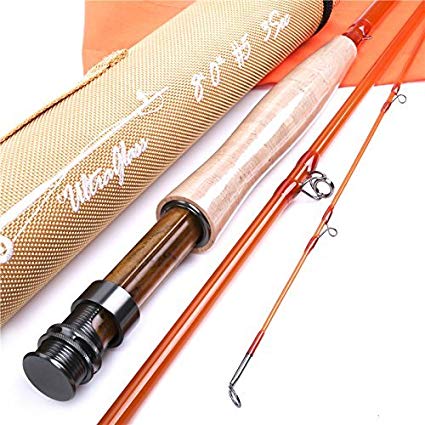 E-glass is one of the oldest and most common materials used to make fishing rods. These rods are quite durable and can stand up to many years of use and abuse. They're also the heaviest type of fishing rod, and they're less sensitive than other materials.
In the search for a material that provided more sensitivity and lighter weight, S-glass was developed. Not only does this material provide a better feel at a lighter weight, but it's also even more durable than traditional E-glass.
Both materials are exceptionally popular for catfishing, as their high strength and durability allow them to absorb all the fight that big catfish can put up.
Graphite
Graphite is quite popular for bass and other styles of small game fishing. This material is exceptionally lightweight and sensitive, but it's much less durable than fiberglass rods.
While graphite is ideal for fishing with a rod in your hand all day, a good size catfish can snap a graphite rod like a toothpick.
Carbon Fiber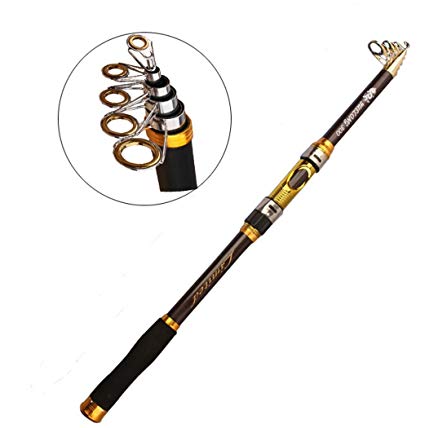 Similar to graphite, but considerably more durable, carbon fiber offers plenty of sensitivity without the trademark fragility of graphite. Carbon fiber still isn't as durable as e-glass or s-glass, but it's strong enough to land smaller cats.
Composite
In an effort to combine the feel of graphite with the durability of fiberglass, composite materials have been used to varying degrees of success across the fishing rod industry. Depending on the amount of glass in the composite material, these rods are often quite sensitive, and much more durable than graphite or carbon fiber rods.
How to Find the Best Catfish Rod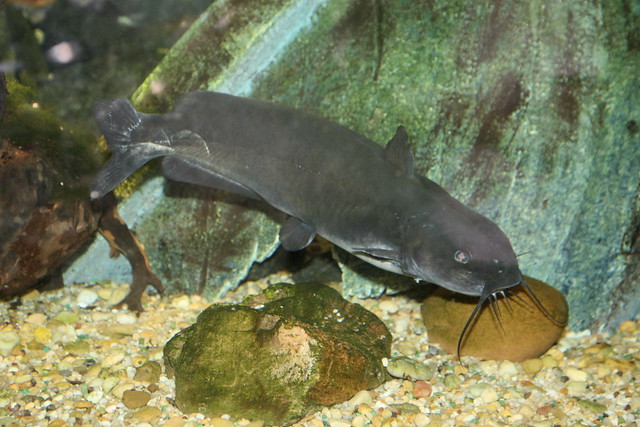 When shopping for a catfishing rod, you'll want to consider each rod based on these criteria, which is also how we evaluated each of the best catfish rods we'll be covering in just a moment. Here's what to look for when it's time to find a great catfishing rod.
Strength & Durability
Compared to other freshwater fish, catfish can be absolutely punishing on your setup. Even cats under ten pounds can put up a serious fight, and if you have a monster on the line, there's no shot that you're reeling it in without a rod that's exceptionally strong, and able to stand up to whatever a fish is dishing out.
If you're looking for a rod that can handle larger fish and offers reliable strength and consistency time after time, find a rod that's both strong and durable.
Weight
In years passed, catfish rods weighed an absolute ton. While this isn't a big deal if your rod spends most of its time in a holder, but for many more modern styles of hunting catfish, a heavy rod that's difficult to keep in hand for longer periods of time just won't cut it.
Rods that are lighter in weight will be more comfortable and less taxing to hold, and they're a practical necessity if you're fishing from shore. However, lighter rods are typically less durable, so there's a trade-off to consider here. Thankfully there are plenty of rods which are fairly light while remaining strong and durable.
Rod Length
Most people who are new to catfishing are surprised to see how much longer the rod and handle of a catfishing rod is compared to rods for other freshwater fish. Longer rods allow the angler to cast more accurately, exact more control over a fish when it's on the line, and land fish with less effort than a shorter rod requires.
Most catfish rods are 7-7 ½ feet long. Depending on your needs and the size of the fish you're going after, you'll find one size is preferable over the other. Those looking for a lightweight rod for small and medium catfish should do well with a seven-foot rod, while a longer rod is preferable for those hunting trophy cats.
Line Guides
Whether you prefer a spinning or baitcasting rod, the number of line guides on the rod can often mean the difference between a great rod that's comfortable to use and a mediocre one. Line guides are responsible for how a rod feels when a fish is on the line, and how well it casts while also distributing the force of a fighting fish evenly throughout the rod.
Quality rods will have at least one line guide per foot, while cheaper rods usually have line guides which are spaced further apart. Since this aspect of a rod can also affect its strength, durability, and feel, you should always reach for a rod that has plenty of line guides.
Today's Best Catfish Rods
Without further adieu, here are our five best catfish rods for all styles of catfishing.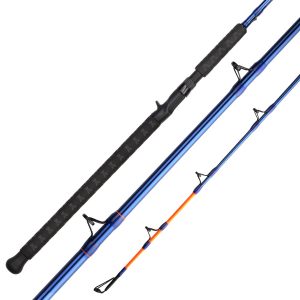 Durable, lightweight, and well made, these casting rods from KastKing provide impressive performance at an affordable price point that beginners and experienced catfish hunters are sure to appreciate.
Made from 100% linear s-glass, these rods offer remarkable strength and durability that most other rods can't come close to matching. Stainless steel foot guides and rings and reinforced nylon reel seats help to mitigate the extreme pressure that large cats can place on your gear.
The handles are wrapped in a soft EVA foam with a durable rubber outer shell provide improved grip and durability compared to cork or regular foam handles, and the rubber shell allows you to easily wipe away slime from fish or your bait.
When you land a fish, the bright orange strike tip allows you to easily detect even the slightest of movements in your rod when your bait is being nibbled on, even in the dark.
Pros
Fairly lightweight
Exceptionally durable
Comfortable rubber covered handle
Cons
Reel seat knob is easy to loosen if you aren't paying attention
Not as sensitive as some higher-end rods

Undoubtedly the most popular rod on the market, the UglyStik is available in a variety of different configurations and strengths designed for all types of fishing. While the original UglyStik is a great rod in its own right, the Elite version adds some noteworthy features, and considerably more graphite is used when making the blank.
This rod offers composite construction and is made from fiberglass and graphite, and UglyTech construction ensures that despite having 35% more graphite than the original UglyStik, it's still durable and strong. UglyTuff one-piece stainless-steel guides are strong as can be, which allows this spinning rod to stand up to larger fish nearly as well as some casting rods. The clear tip design makes it easy to detect even the most subtle of nibbles so you can nail more fish and lose less bait.
UglyStik also stands behind their rods better than most manufacturers, and this rod is backed by a seven-year warranty, which provides peace of mind should your rod ever break or malfunction.
Pros
Lightweight
Solid warranty
Affordable
Cons
The reel seat is too small for larger reels
Cork handle is prone to cracking and wear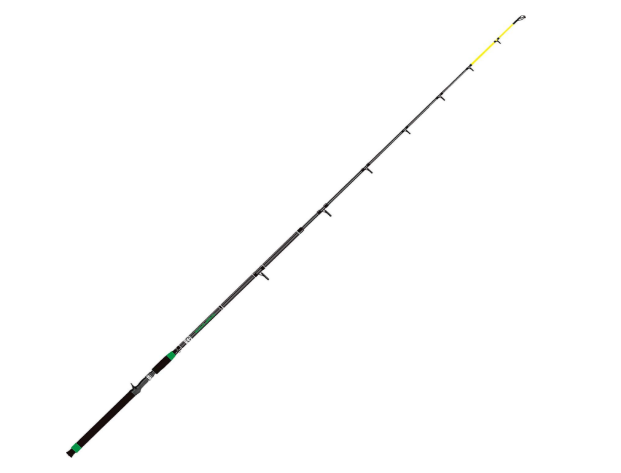 This two-piece medium heavy rod is built to stand up to even the biggest and feistiest cats, making it one of the favored rod choices for trophy hunters everywhere. This s-glass rod is designed for medium-heavy tackle and provides a number of features designed to add durability and longevity to the rod without sacrificing its feel.
Ideal for heavier line weights, this rod is outfitted with eight low-profile double-footed line guides that have no trouble standing up to heavy braided line where over guides would wear or break. The reinforced reel seat is outfitted with a steel support ring to ensure this rod, and the rest of your rig can stand up to the rigors of catfishing.
The two-piece construction makes this rod much easier to transport, and a heavily reinforced union ensures that your rod stays together and provides the strength you need during your biggest fights.
An EVA foam grip with a rubber end cap offers comfort and can easily be wiped clean after reeling in a slimy catfish. The 13" long fighting handle allows you to effortlessly transfer leverage as you land fish.
Pros
Two-piece construction for easy transport
Extremely strong and durable
Double-footed stainless line guides
Cons
A bit heavy
Not as sensitive as some other rods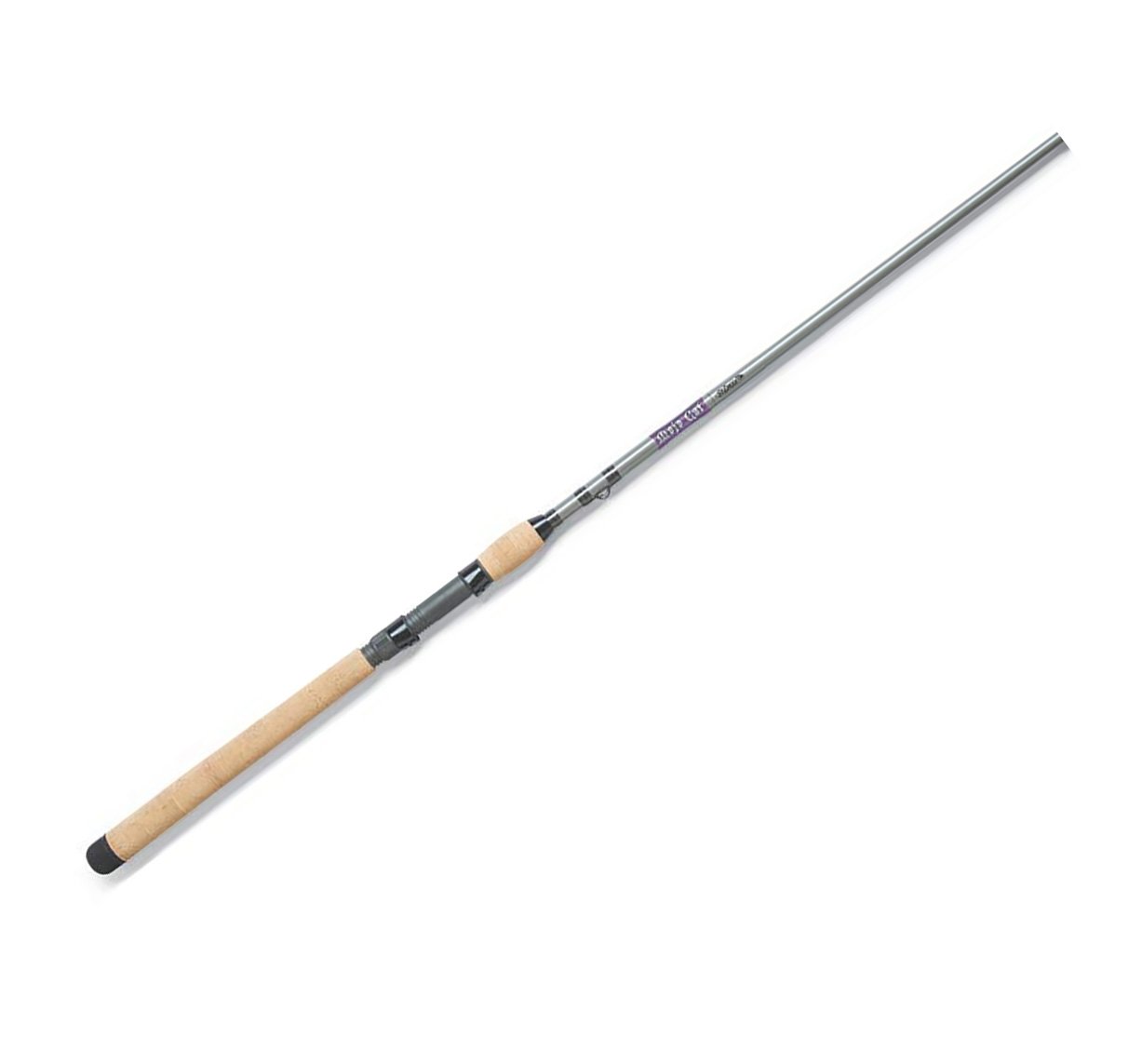 Packed with incredibly high-end features that are sorely lacking from other rods, the Mojo Cat from St. Croix is an ideal rod for trophy anglers who spare no expense on their gear.
This lightweight yet durable rod is made from SCII graphite and 100% linear s-glass to provide remarkable durability without sacrificing feel. Mojo Cat rods are outfitted with Kigan Master Hand 3D guides with aluminum-oxide rings to provide unmatched durability for a spinning rod. This rod is also outfitted with a Kigan hook-keeper which accommodates any size hook.
A Fuji DPS reel seat provides best-in-the-business performance and compatibility with virtually any spinning reel, while a luxurious premium-grade cork handle provides great rod feel and a strong grip even when the handle is wet. St. Croix stands behind these rods with a five-year warranty, and they're known to provide a level of after-sale service that may be the best in the business.
Pros
Graphite and s-glass composite is extremely light
Highest quality components
Strong warranty
Cons
Expensive
The finish is prone to flaking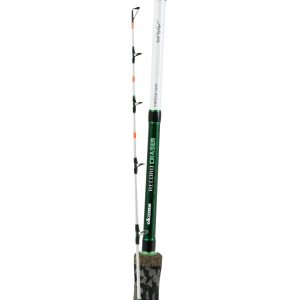 Okuma's Record Chaser rods were developed with world record holder Kirk Kirkland, who is one of the most well-known trophy fishermen in the world. Designed especially for large cats and gar, the Record Chaser is an ideal rod for anglers looking to land monsters without emptying their entire bank account.
24-ton carbon fiber rod blanks provide impressive durability for a carbon rod, and the long 7'6" size makes it easy to reel in and control any size cat. Ultimate Flex Technology adds strength and durability without sacrificing responsiveness, making this one of the most reliably strong spinners ever designed for catfishing.
Stainless steel deep press guides with titanium oxide insert provide plenty of durability, even when using heavy braided line.  The tip guides are welded stainless steel which helps to prevent popped inserts.
A camo EVA foam grip provides a comfortable feel and it responds just like cork, but it's also much easier to clean, and more durable than natural cork handles are. If you're looking for a spinning catfish rod that's able to stand up to bigger and badder fish, the Record Chaser may be a perfect companion for you.
Pros
Lightweight
Super responsive
Comfortable and stylish handle
Cons
Mediocre 1-year warranty
Not as durable as a fiberglass or composite rod
Comparing the Options
| | | | |
| --- | --- | --- | --- |
| Rod | Rod Type | Price | Highlights |
| KastKing KastKat 7' Casting Catfish Rod | Casting | $$ | Lightweight, strong and durable, rubber covered handle |
| Shakespeare UglyStik Elite 7'6" Spinning Rod | Spinning | $ | Affordable, lightweight, 7-year warranty |
| Championship Catfishing Chopstick 7'6" Casting Catfish Rod | Casting | $$$ | Easy to transport, superior strength and durability, high visibility strike tip |
| St. Croix Mojo Cat 7' Spinning Catfish Rod | Spinning | $$$$ | Ultra-light weight, strong warranty, top-quality components |
| Okuma Record Chaser Kirk Kirkland Casting Catfish Rod | Casting | $$$ | Two-piece construction, highly responsive, comfortable and durable handle |
Final Thoughts
There aren't many fish you can go after that are more fun to catch than catfish. With the right gear, you should be well on your way to landing monster cats in no time. Whether you prefer a spinning rig or a bait caster, the best catfish rods will provide plenty of strength and durability while also delivering the features you need to land the type of catfish you're after.
Recommended Reads: