Trout anglers often invest a lot of time researching things like rods, reels, lures, and even life jackets, but the fishing line is often an afterthought. If you're new to the world of trout fishing, you might think that all fishing line is the same. While it's all designed with the purpose to hold hooks, lure, and bait, there are different types of fishing line.
Whether you're unhappy with the type of line you're using now, or you want to see what other options are on the market, this guide is for you. We take a look at some of the best fishing line for trout and some tips for how to select the best line for you.
Bottom Line Up Front
Our top choice overall for trout fishing is KastKingSuperPower Braided Fishing Line. Its versatility and durability make it one of the best fishing lines you can pack in your tackle box. If you have little to no experience with braided line, we will point out some of the benefits of using this type of line while you're fishing for trout.
Different Types of Fishing Line for Trout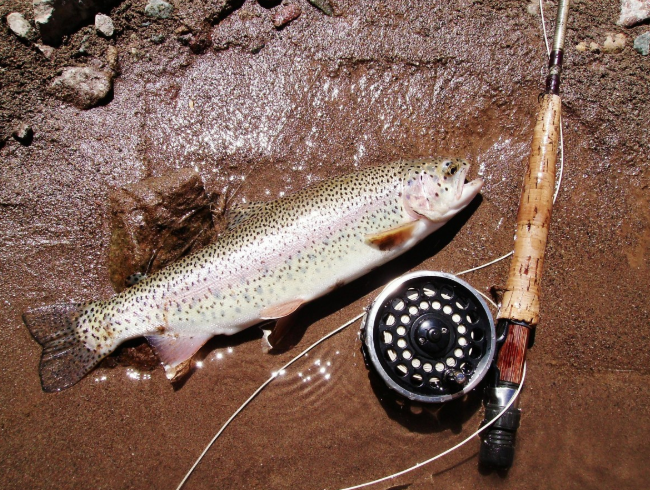 You might already be wondering if fishing line is all the same. At first glance, fishing line might be difficult to tell one type from the next, but there are differences between the three main types.
We'll take a closer look to help you decide which type is best for your trout fishing needs and preferences. We will also take a little time to discuss fishing line for fly fishing since trout is a popular catch among fly fishing anglers.
Monofilament Line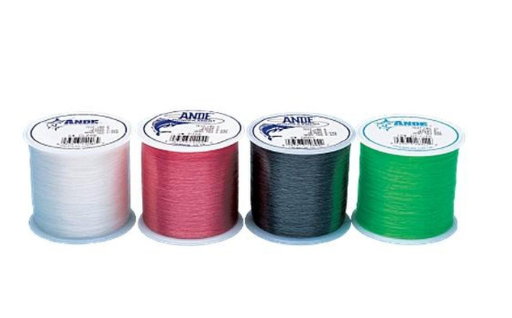 Even if you know very little about trout fishing, or fishing in general, you are probably familiar with monofilament fishing line. Monofilament, which is also known as "mono," is a nylon-based fishing line and a popular type used by anglers with all experience levels for decades.
What Anglers Like:
Many anglers like mono line because it's one of the more easier fishing lines to use, works well in a variety of fishing situations, and is flexible. Monofilament line is a popular choice for anglers with little to no experience because it's easier to cast than other types of fishing line that is more "stiff."
If you're learning to tie or perfect knots, you may want to learn on monofilament line because it tends to be a more accessible line for knot tying (especially for beginners).
Another reason why mono line is a favorite pick is that it has nearly 25 percent more stretch than other lines. Stretch and "forgiveness" is useful for anglers who get caught up on sticks and debris. Mono's ability to stretch also means that it's more difficult for a fish to come unhooked, or tear through the mouth if your line is under pressure.
If you like to use topwater lures when fishing for trout, mono is an excellent option because it sinks slower than other types of fishing line. Color options in monofilament line make it easier to go undetected by fish.
What Anglers Don't Like:
One of the most significant issues with monofilament line is that it lacks the same sensitivity as other types of fishing line. Due to its stretch, you may not detect smaller nibbles on your line. Mono line can weaken due to exposure to UV light.
Even if you store your line in a dark place when you're not fishing, you probably need to change out your mono line about once a year.
Braided Fishing Line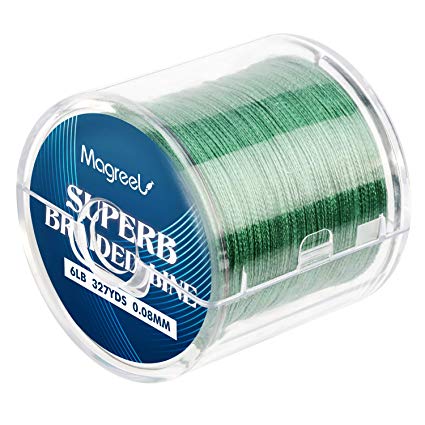 Braided fishing line, which is sometimes known as superline, is some of the most durable fishing line available. According to Sports Fishing Magazine, braided fishing line is also some of the newest line on the market. Spectra made the first braided line in the early to mid-1990s.
Braided line consists of polyethylene, and through a process known as gel-spinning, ultra-thin fibers (which contain dozens of microfilaments) are woven together to make a super thin and strong fishing line.
What Anglers Like:
The strength of the braided line often comes in handy for anglers who prefer to fish in all types of waterways, especially where rock and sharp debris is present. While trout are not some of the biggest and heaviest fish, they often like to seek protection under large boulders or trees. If you want to catch other species of fish, braided line is a versatile option.
One wrong cast and you might find that your line is caught up in a difficult spot. Braided line typically holds up in such situations where mono line might snap or weaken. Since this heavy-duty line has little stretch to it, the sensitivity is higher, which means you can act more quickly on a bite.
Braided line is an excellent option for long casts and floats on the water rather than sinking slowly, which is beneficial when using topwater lures.
What Anglers Don't Like:
Superline is typically more expensive than mono line, and even though it lasts longer than the nylon-based line, it frustrates some anglers.
Braided line doesn't hold knots as well as monofilament line, and because it has little to no spool memory, it doesn't untwist like mono. If your line tangled, it's often more difficult to undo than filament and since it's a strong line you have to cut it rather than pulling to break free.
Fluorocarbon Line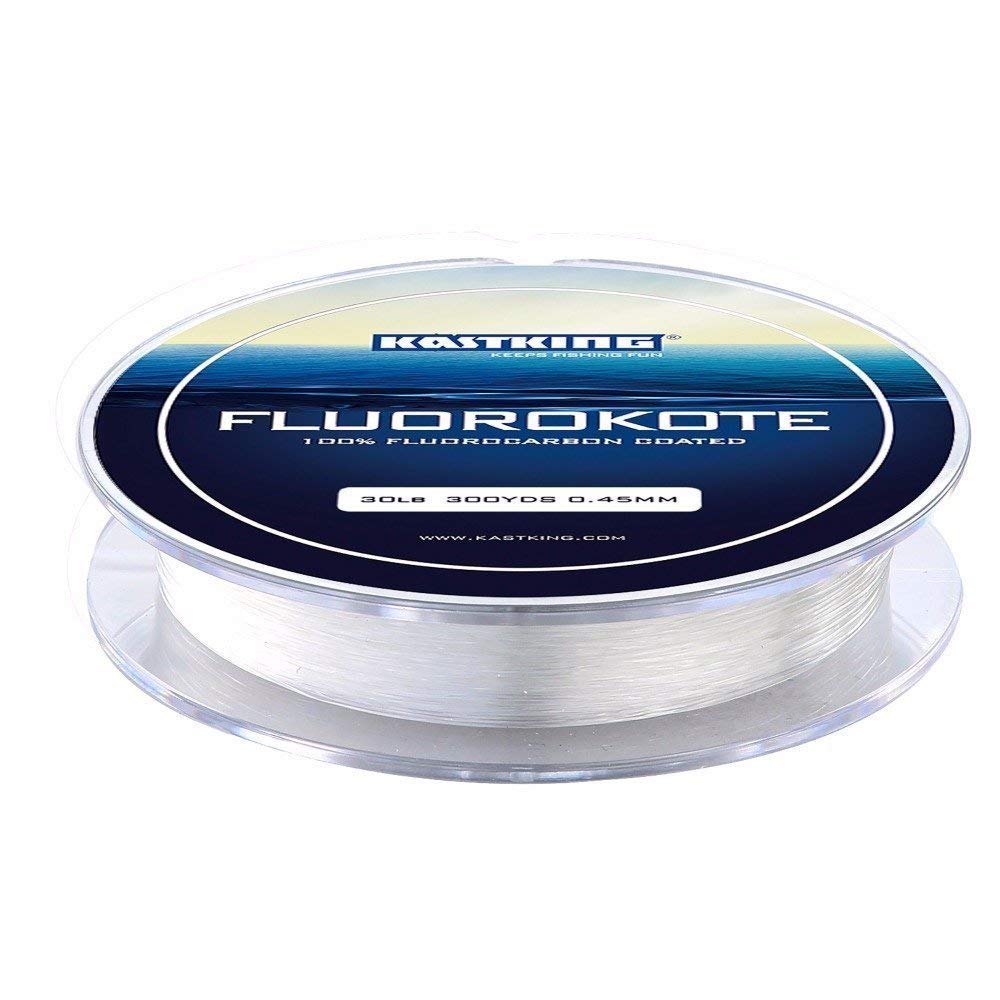 Fluorocarbon fishing line, or fluoro, is made of some of the same materials as the Teflon pan in your home. Fluorocarbon refers to many compounds which include fluorine, chlorine, carbon, and synthetic hydrocarbons. One of the unique things about this type of fishing line is that it has high sensitivity yet more stretch than mono line.
Fluoro line is single strand and stretches like monofilament but is more dense and heavier, which makes it sink easily.
What Anglers Like:
Most fish are unable to detect fluoro line in the water, which makes it an excellent option for trout (or any fish you're trying to catch). If you're fishing for trout in deeper water, the sensitivity of fluoro line can help you react more quickly to a bite on a line rather than missing out on a potential catch.
Monofilament weakens over time due to sun and water exposure, and braided line absorbs water, which can affect how well it works. Fluoro line doesn't absorb water, and because it's thicker than mono, it's more durable overall.
What Anglers Don't Like:
Fluoro line is versatile and heavy-duty, so there's not much that anglers don't like about this fishing line. If you prefer to use floating lures, fluoro line is not the best type of fishing line to pair due to its sinkability. Due to its density, fluoro line is stiff and sometimes hard to manage.
Now that we've taken a closer look at the different types of fishing line, the main takeaway is that the type you choose is more about personal preference. Some anglers explicitly use one kind of fishing line for decades and never try anything else while some switch out their line depending on what they're fishing for and where they fish.
All types are suitable when trout fishing, but you will need to decide based on where you're fishing and other factors.
Line for Fly Fishing
Fly fishing line looks, feels, and works differently than other kinds of fishing line. Fly lines are thicker and dense with a braided nylon core. The core is coated with PVC and other substances that help the line sink or float. There are different types of lengths and weights, which refers to the taper of the line.
How to Find the Best Fishing Line for Trout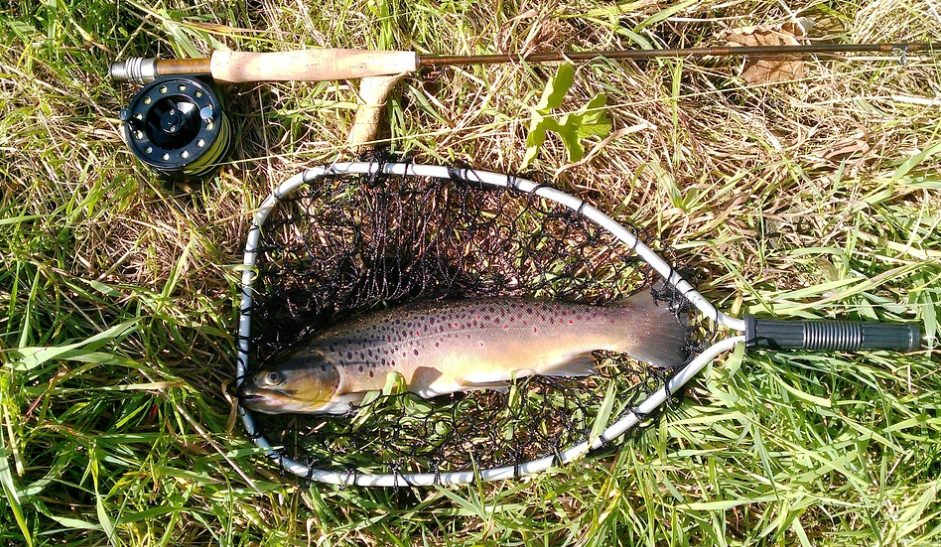 Now that you know the main kinds of fishing line and some of the advantages and disadvantages let's take a closer look at a few more things to consider when shopping for fishing line.
Again, you are likely to select your line based on your own preferences, but you may also want to consider the following.
Sink or Float?
Depending on where you're fishing and what type of lure you're using to catch trout, you might want your line to sit on or near the surface of the water. Fluoro line is best for deeper water, while braided and mono lines are better for shallow and light lures.
Keep in mind that you can use any kind of line in all types of water, but you may need to adjust your weights or lures.
Are You Experienced at Tying Knots?
You don't need experience tying complicated knots to go fishing, but essential knot tying is useful to fish. Depending on the line you choose, you might have to practice to perfect a tight knot. Mono line is the best for tying knots if you're in the first stages of learning.
Price
Monofilament fishing line is typically the most affordable option but is often the most short-lived kind of line. Braided and fluorocarbon will cost more but may last a little longer if you keep it in good condition.
Test Rating
Every trout angler knows that the weight of trout varies greatly depending on the species. Brook trout are typically around four to six pounds while lake trout can weigh three times as much. It's essential to select a fishing line that can handle the weight of the fish you want to catch.
Monofilament is tough and can handle unexpected weight increases, but you may want to look for test rating on braided line since it has less give than mono line.
When selecting the best line for your trout fishing needs, don't forget to consider the pros and cons of each line we mentioned earlier in the guide. Now that you know what to look for when choosing a fishing line, it's time to talk about our favorite picks for the best fishing line for trout.
Best Fishing Line for Trout
1. KastKingSuperPower Braided Fishing Line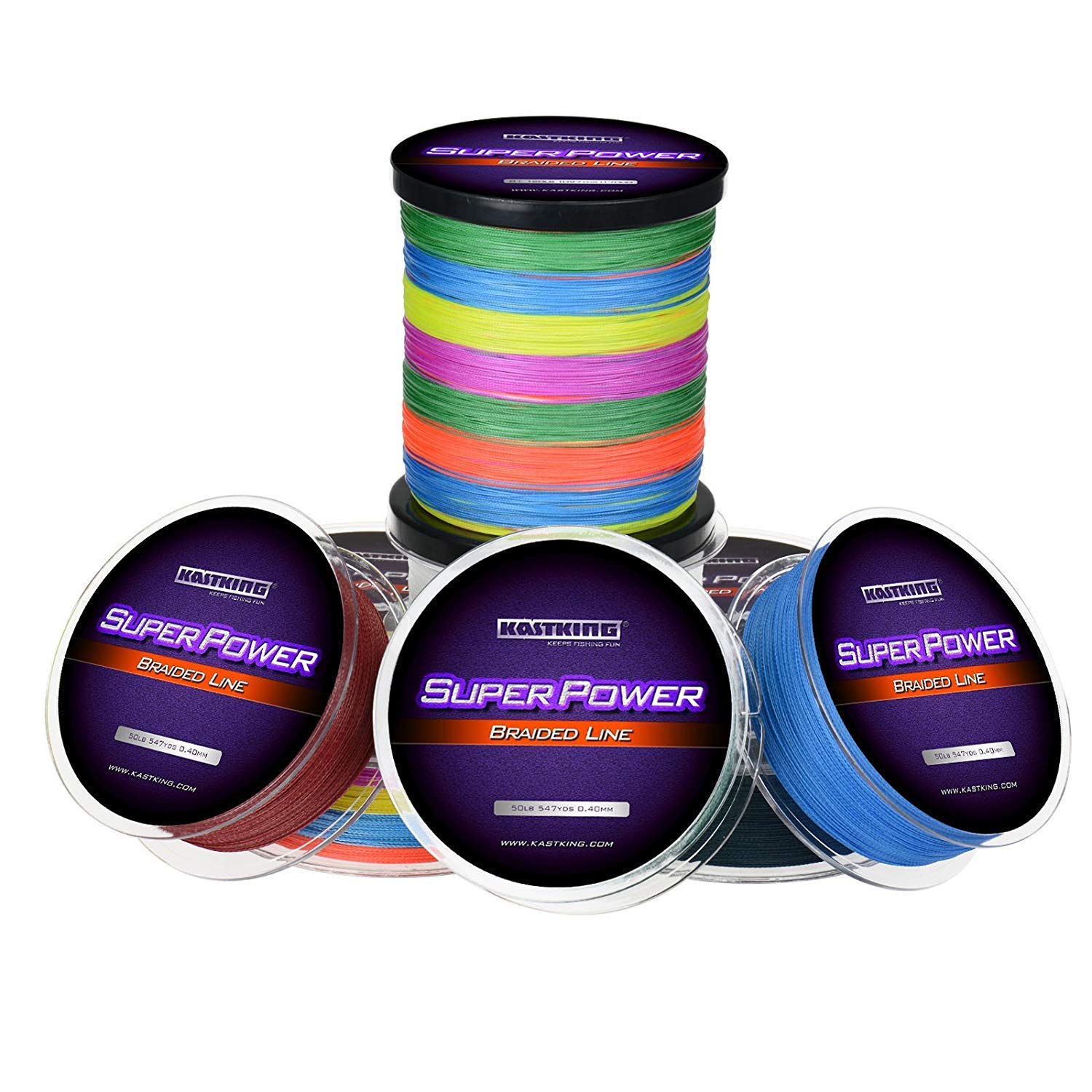 KastKingSuperPower Braided Fishing Line is available in a variety of different test rating from six pounds to over 100 pounds. Low memory in the line means you can make faster and farther casts. KastKing line is resistant to abrasion, so even if you get snagged on something in the water, you're less likely to lose your trout.
Although braided line doesn't have the stretch like monofilament line, KastKing is ultra-sensitive, which means you'll feel the smallest of bites and increase your awareness of what's on your line. Small diameter means that you can have more line on your spool, which allows you to cast farther without worrying about getting too close to the end of your spool. KastKingSuperPower Braided Line is available in low-visibility gray, yellow, blue, multi-color, and moss green.
Pros:
Variety of strengths and colors for versatile fishing opportunities
Thin diameter and abrasion-resistant
Ideal for catch variety of trout species
Cons:
May need to perform your own strength test before using to check for accuracy
Color can bleed from the line
 2. Trout Magnet S.O.S. Fishing Line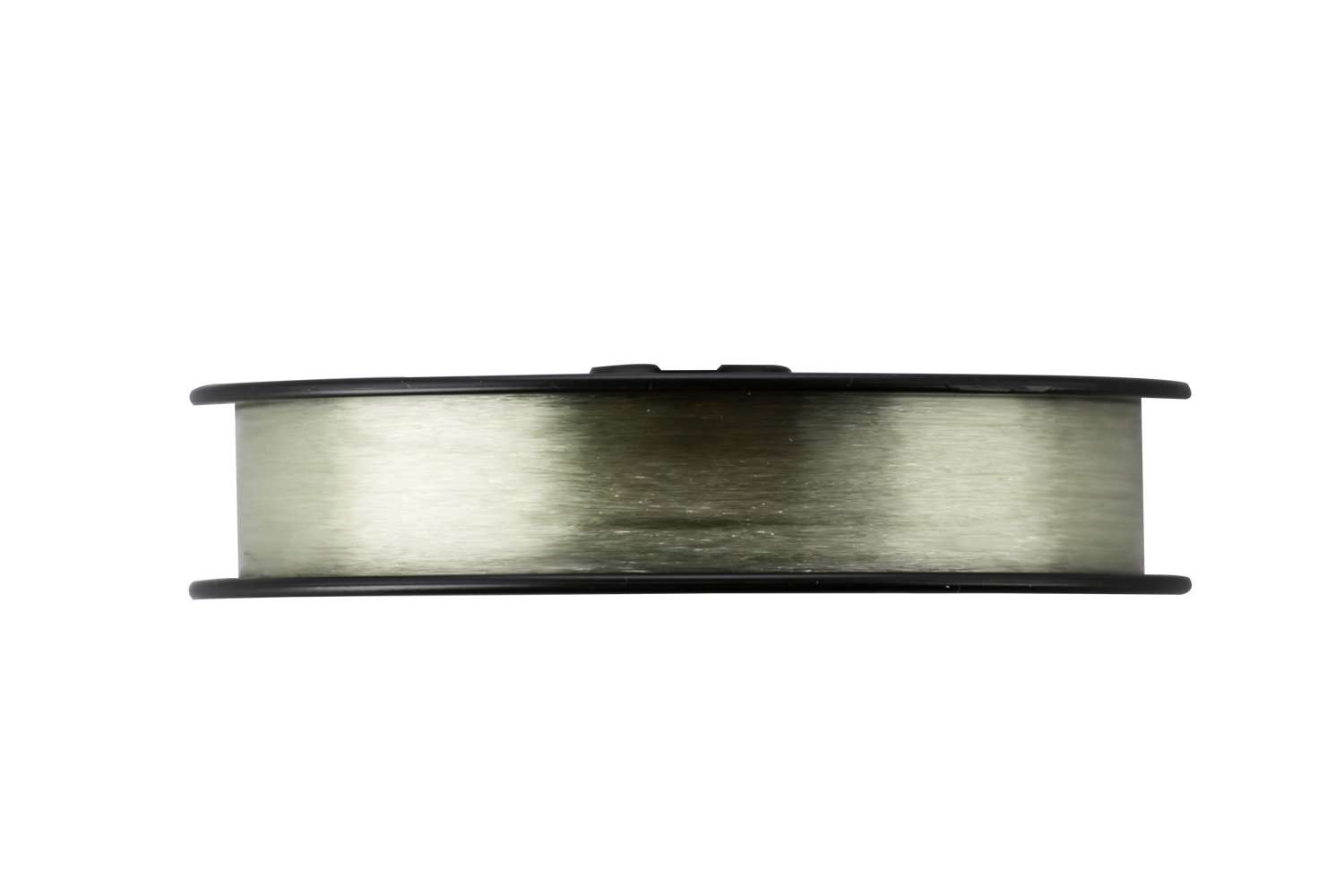 If you're looking for a fishing line that is exclusively for catching lightweight trout, it's safe to say that the proof is in the name. Trout Magnet S.O.S. Fishing line is a copolymer line, which is an "advanced" monofilament. It's a stronger form of mono line but not a fluoro or braided line.
Trout Magnet has the stretch you expect from mono line and is ideal for light-line fishing. Available in two, four, or six-pound test, it's not designed for catching heavier trout. If you do happen to snag an unexpectedly large trout, there's a good chance it will hold up well due to its flexibility.
Pros:
Stronger than standard monofilament line
Easy to cast
Great with lightweight and topwater lures
Ideal for fishing for smaller trout in shallow waters like streams
Cons:
May only last for a season, like most mono line
Limited test pound options
No color options
3. Stren High Impact Monofilament Fishing Line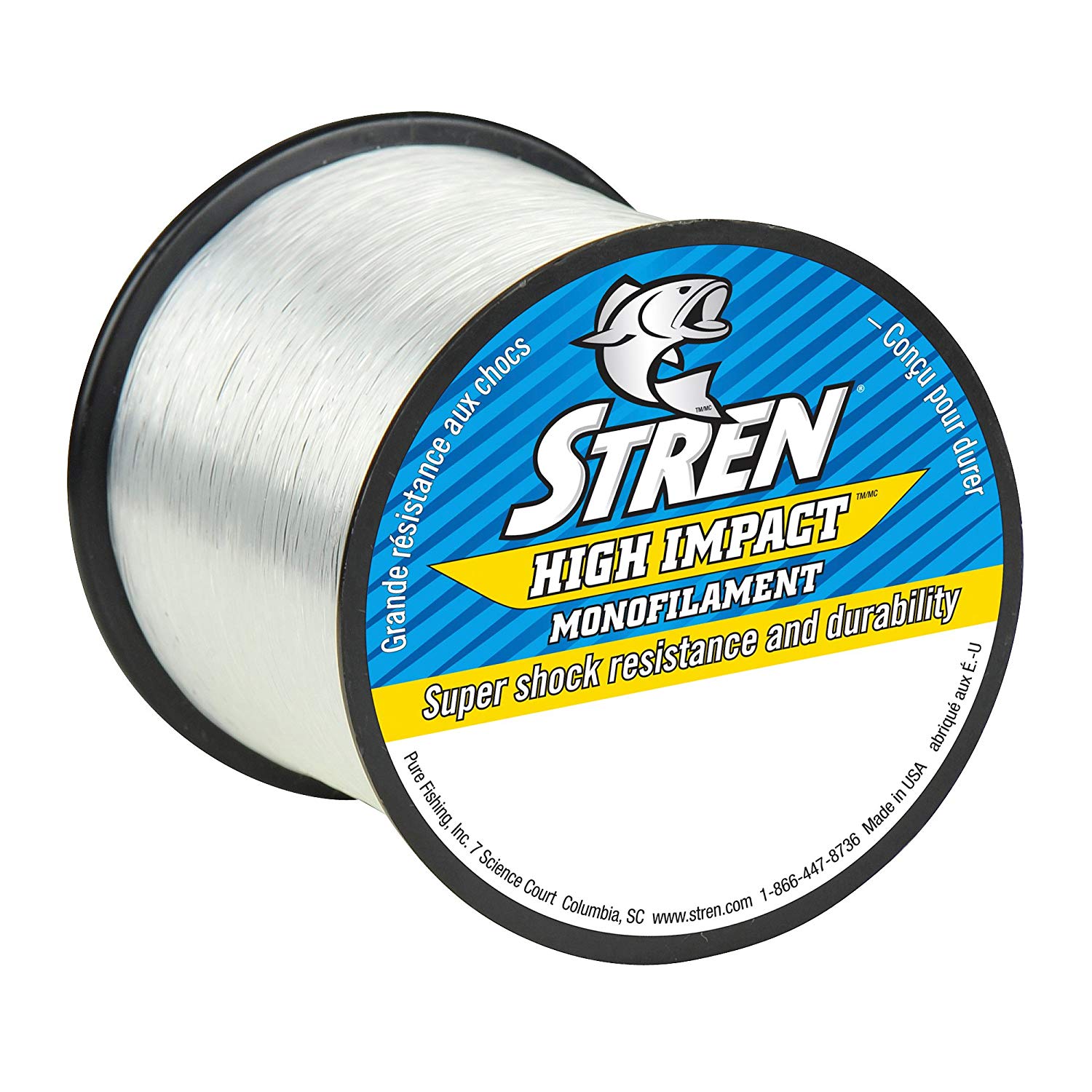 If you're looking for a more middle-of-the-road but trustworthy mono line, Stren High Impact Monofilament Line is an excellent option. Stren's mono line may have more strength than you need to reel in your trout, but you never know when your line might get snagged and caught up in debris.
Available in low or high-vis green, blue, and clear, as well as a variety of test ratings, there's a spool of line for nearly every angler. High impact mono line means that you have the stretch, flexibility, and durability that you expect from a high-quality monofilament but is easy enough to use in a variety of settings.
Pros:
Test strength and color options
Available in larger spools and quantities
Excellent stretch and durability
Cons:
Color may bleed off the line
Some spools may have too much memory causing too much coil when casting
4. Seaguar Blue Label Fluorocarbon Leader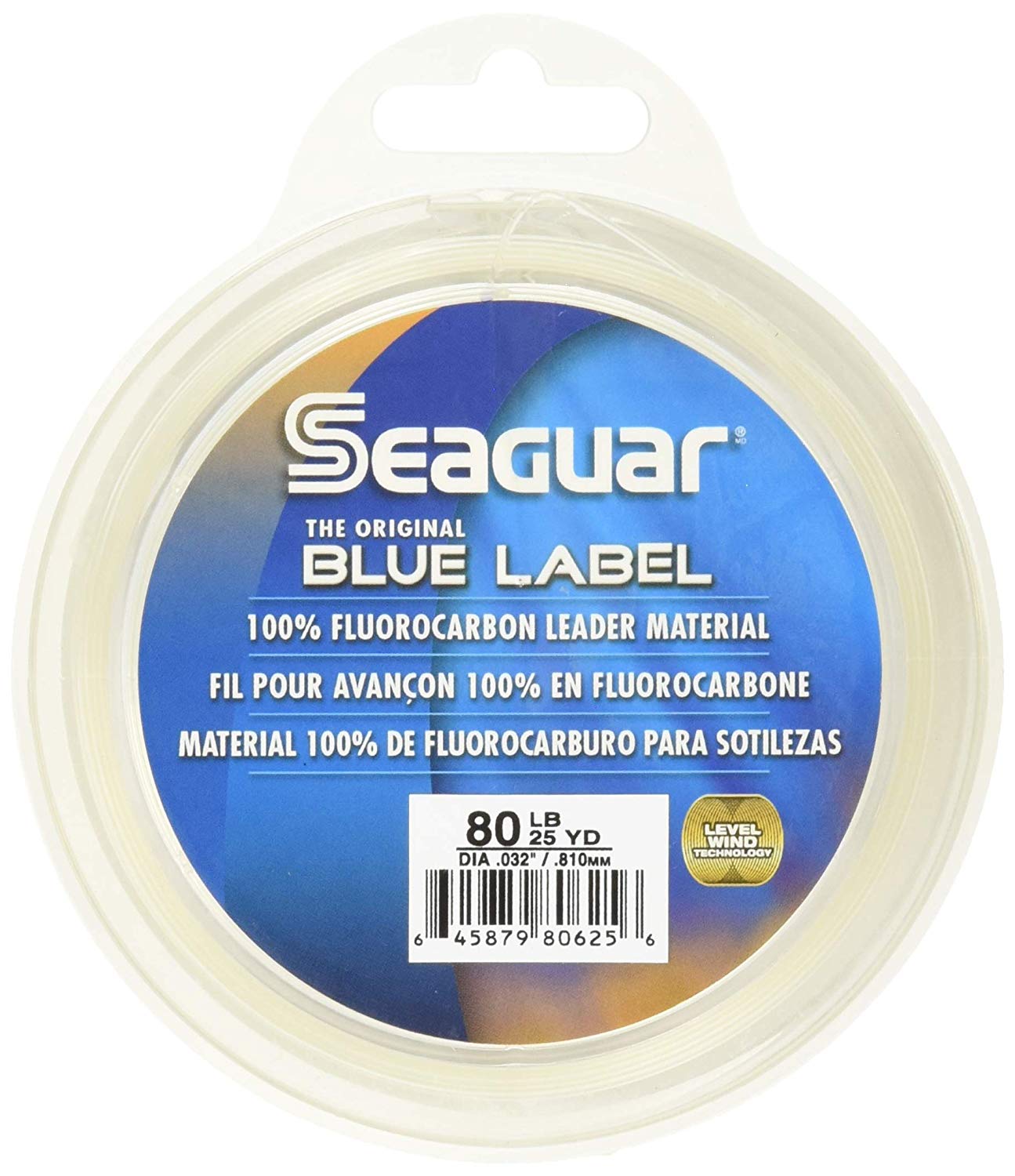 SeaguarBlue Label Fluorocarbon Leader is an excellent top-rated option whether you're trying fluoro line out for the first time or you want to see what other fluoro line is on the market. Seaguarfluoro line has high memory, which can be a dealbreaker for some anglers, but the line is virtually invisible in the water, has less stretch than mono, but is stronger.
The Blue Label is available in a variety of test ratings from 2 pounds to 80 pounds. Keep in mind that you may be able to catch something slightly heavier than the test line rating, but because the line has limited stretch, you should avoid exceeding the rating.
Pros:
Lightweight and hard to detect in the water
Extremely durable
Various test ratings
Cons:
Strong spool memory
Limited flexibility
5.FISHINGSIR GODLINE Braided Fishing Line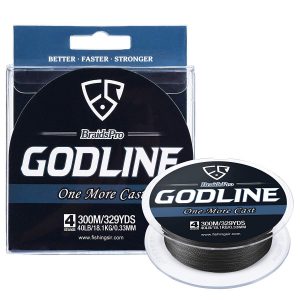 GODLINE is known for its low-memory, which helps for more effortless casting, and easy tying and knot strength. Although the braided line has limited flexibility, the line sensitivity is higher. Other braided lines are prone to water absorption which can weaken and shorten the lifespan of your line, but GODLINE is abrasion-resistant, has a Teflon-coating, and repels water.
GODLINE Braided Fishing Line is available in test strength between 8 and 50 pounds and in a variety of colors like white, pink, multi-color, low-vis green, and black.
Pros:
High-tensile strength
Low-memory and minimal stretch
Variety of strength and colors
Cons:
Weak spots in the line
Wind knots
Comparing the Options
| | | |
| --- | --- | --- |
| Line | Highlights | Drawbacks |
| KastKingSuperPower Braided Fishing Line | Thin and abrasion-resistant | Color bleeds |
| Trout Magnet S.O.S. Fishing Line | Stronger than regular mono line | Limited test strength |
| Stren High Impact Monofilament Line | Durable and great stretch | Too much memory in the line |
| Seaguar Blue Label Fluorocarbon Leader | Virtually undetectable in water | Limited stretch |
| FishingSir GODLINE Braided Line | Minimal stretch for easy casting | Weak spots in line |
Final Thoughts
Trying to find the perfect fishing line for trout fishing is often overwhelming for new anglers. Even experienced anglers struggle to find the ideal fishing. While we are confident in our line choices, it might take you a while to find your favorite line.
We suggest you try out one of our top picks and see the success at the end of your line. Since most spools are small, why not try one of each so you can compare the results yourself?
Our favorite line that we think will please every trout angler isKastKingSuperPower Braided Fishing Line. Even though the color may bleed from the line, we believe that's a minor issue. Not only do we like the variety of color and strength ratings, but we love the abrasion-resistance and knowing that it's a durable option whether you're fishing on a lake or at the edge of a brook.
Recommended Reads: