On paper, catching trout should be as easy as it gets. These opportunistic predators are always looking for a meal, and they eat a wide range of different foods. Trout are also notoriously fickle eaters; quick to ignore a lure that doesn't look and behave exactly like the real deal. It's critical that you select a trout lure that provides both the look and action of prey.
Plenty of great trout lures can replicate a specific fish, insect, or feeding condition, but the best trout lures allow you to hit in all conditions, even with especially finicky fish. Today, we'll cover everything you need to know to select your best trout lure based on how you fish.
We'll also check out five of the best lures available now.
Bottom Line Up Front
If you're looking for the best trout lure out there for trout, your best bet may be to go with the Panther Martin Pro Guide Anywhere 6, which includes 6 spinners in multiple sizes and configurations. That way, you'll have every lure you need at the ready in one convenient package.
Types of Trout Lures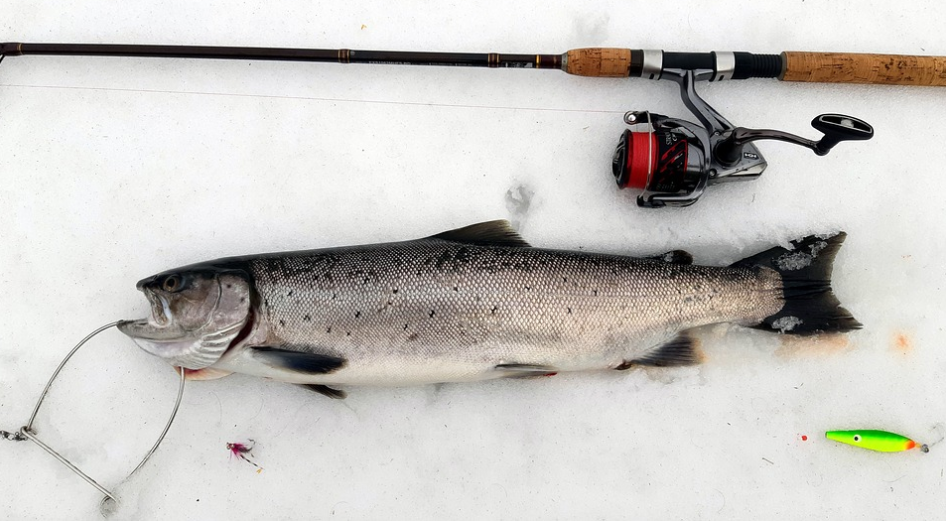 Trout feed on a broad range of different foods, and there are lots of different styles of lures to consider, as some are better for specific fishing conditions. Today you'll find tons of different trout lures available, and these lures below represent your most popular choices for trout fishing.
Spoons
One of the most popular trout lures of all times, spoons offer a reflective shimmer and motion that few other lures can duplicate. Whether you cast, vertically jig or troll, there's a spoon for every different scenario or type of trout.
Lighter spoons are ideal for fishing in shallow waters, and they also provide a delicate fall when jigging, which some trout prefer, making them a solid choice for multiple fishing scenarios. Heavier spoons are ideal for casting or trolling, especially in deeper waters.
Keeping a variety of spoons on hand is always a good idea, as they attract a wide variety of different species.
Worms
Worms may not have the same nuance or polish as other trout lures, but these proven lures simply catch fish even when other lures come up dry. For deeper waters, this versatile bait can be used to target trout or suckerfish, if you choose to anchor your bait.
Available in a variety of sizes, colors, and weights, many different parameters need to be considered when shopping for worms. Depending on which species you're fishing, you're sure to find suitable worms that will help you pack the shore with trout.
Soft Baits
Similar to worms, soft baits are made from pliable plastic, and they're made to resemble a variety of different baitfish that trout and other species go crazy for.
These baits are usually used with a lead jig head, and they're bounced up and down on the bottom to spark interest from fish in the area. Speckled trout, in particular, are big fans of paddle tail plastics that resemble mullet or minnows.
Spinners
It's easy to look at a spinner and wonder why a fish would ever give one a second look, but in the water, it's a whole other story. Spinners behave in a way that trout can't resist. As a spinner moves through a lake, stream, or river, it flashes and moves water in a way that's very attractive to even the most discerning fish.
Some spinners have been further engineered to vibrate or pulse through the water, mimicking different foods that trout love. These lures are available with treble hooks or single hooks, and some provide additional dressing that might be more attractive to some trout.
While spinners aren't ideal for every fishing scenario, it's always a good idea to keep a few at the ready in your tackle box.
Jigs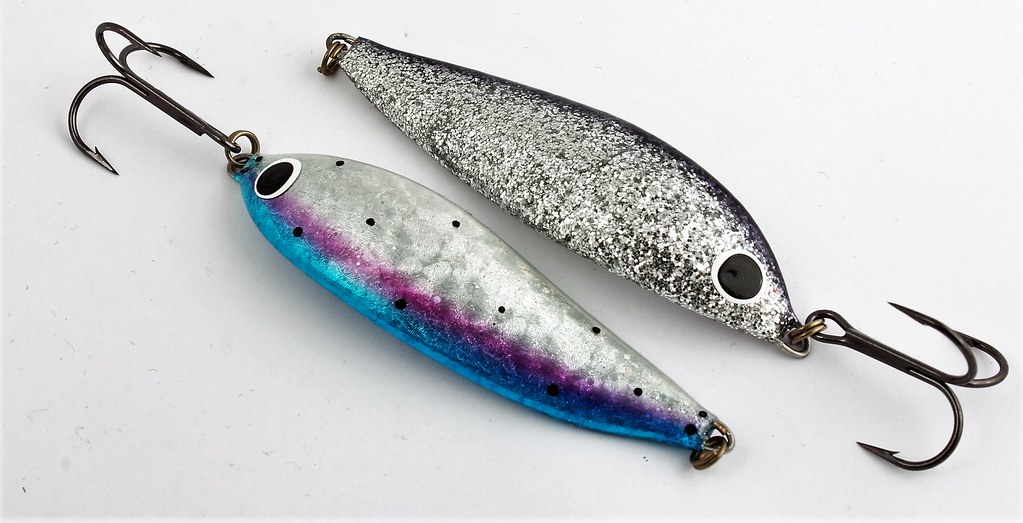 Arguably the most versatile of all trout lures, jigs come in an exceptionally wide variety of shapes, sizes, and materials. Depending on which jig, they can be used for casting or trolling in shallow or deep waters, fast or slow, year-round and in virtually any type of water.
One reason why jigs may not be as popular as other lures is that there's a great deal of nuance involved in using a jig well. Many lures can provide realistic action whether they're being operated by an experienced angler or a newbie. With a jig, you're in charge of providing action with your wrists, and trout know better than to take your bait if it's not behaving just right.
For experienced fishermen and those who fish a variety of different environments and conditions, jigs may be the best trout lure for you.
Best Trout Lures for Streams
When fishing streams, a lure designed for light casting is often best. Many anglers prefer lightweight spoons weighing ⅛-¼ oz. Other baits can also be used to great effect, provided that they're light enough to not get anchored in shallow waters.
In streams with a bit more depth to them, a broader range of lures can be used. Depending on what species you're targeting, you can vary the weight, size, color, and other features of whichever lure you're using.
Best Speckled Trout Lures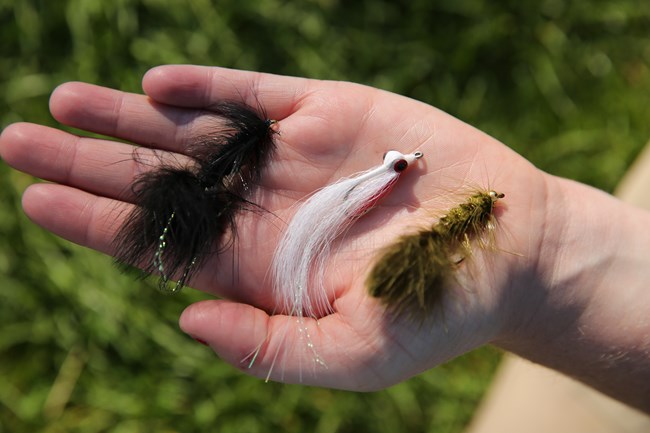 Speckled trout are known to hit on a variety of different lures, whether you're trolling or casting.
In deeper waters, specks seem to love soft plastic baits, which are usually fished on a lead jig head and rapidly bounced off the surface. Gulf shrimp and other shrimp imitations are a popular style, but they hit on a variety of other styles as well, like paddle tail lures that resemble baitfish.
You may find that they hit better on certain colors, so it's a good idea to keep a variety of options. Topwater lures that walk across the surface can also produce great results, and the bigger speckled trout seem particularly partial to these lures. A slow and steady reel with an occasional pause is usually all it takes to hit on some monster specks if you're a hot spot.
Best Rainbow Trout Lures
If it's rainbow trout you're after, spinners are killer lures that will serve you well in a variety of scenarios. Just like every other type of trout, you'll want to vary the type and style of spinner you use to see what produces repeatable results. Some trout prefer dressed hooks, while others will hit with undressed ones.
The original Mepps Agila lure, as well as Panther Martin lures, are among the most popular options for catching rainbow trout.
Best Lake Trout Lures
If you're hunting for a monster, then it's lake trout you're after. These beasts have been known to eclipse forty pounds, and there are few hits you remember quite like your first lake trout.
Lake Trout hang out in far deeper waters than smaller trout species, especially in warmer weather, and they also have an appetite for much bigger prey. So, larger lures that are able to accurately mimic the look and action of their favorite meals is a must. Lake trout seem to have a hard time laying off any lure that behaves erratically.
In cooler months, lake trout can be had far closer to the surface, and crank fishing lures can be your best bet for landing a big trout.
For any condition, spoons are another popular option, and since they can be deployed at different depths, they're perhaps the most versatile lake trout lure.
Best Five Trout Lures – Our Reviews
For trout fishermen, there's no such thing as too many lures. While you may have a go-to lure you can't live without, there are also other options that you'll want to add to your arsenal, so you're prepared to fish for any trout at any time. Below, you'll find our top five best trout fishing lures for every fisherman.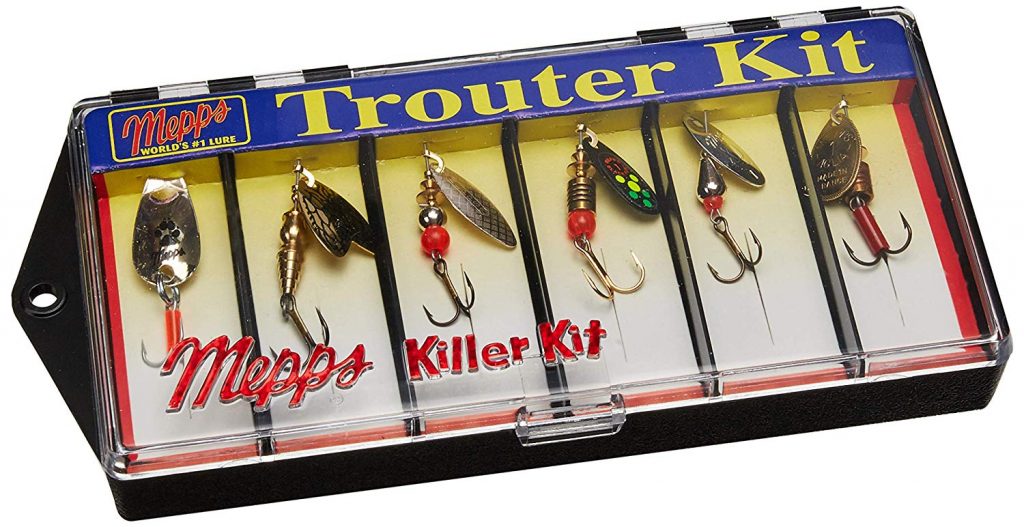 The Killer Kit from Mepps is a collection of six of the most effective and deadly trout spinners you can buy. These spinners are proven no-frills classics that are ideal for fishing a variety of trout species. From rainbows and brookies to browns and grayling, you'll have no trouble finding something that's biting inside this small and well-curated kit.
Built to last, each lure has a solid brass body, and each spinner blade is either silver plated, brass, or copper. Any graphics on the lure are printed with UV resistant inks which resist fading to keep your lures as fresh looking as when you bought them for years to come. Each lure features a plain treble hook.
Included in Mepp's Trouter Kit is a ⅛ oz. Little Wolf, #1 Thunder Bug, #1 Black Fury, #0 Aglia Long Silver, #1 Aglia Gold and #1 XD Silver. If dressed lures are more your speed, this same kit is available with dressings for a few dollars more.
Pros
All brass bodies
A variety of popular lures in one economical kit
Proven effectiveness
Cons
Mostly #1 lures, could use a bit more variety
Doesn't vibrate like some other spinners do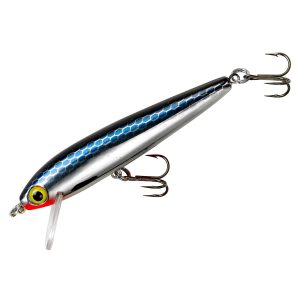 The TD50 is one of the most popular slow-sinking lures available, and it's a go-to lure for many anglers thanks to its versatility and proven performance. This mid-sized lure can be used to work specific depths, and it's especially effective in moving water, producing erratic movements that even skittish trout are unable to resist.
Rebel's TD50 weighs in at 5/32 of an ounce, providing an ideal sinking motion in depths from the surface to two feet. Outfitted with two #10 black nickel treble hooks, a TD50 is a valuable tool for snagging a variety of different trout species as well as bass and other gamefish.
This lure is available in four different species – two minnows and two adolescent trout. While the TD50 is perhaps the most popular of all Tracdown lures, Rebel also manufacturers different sizes which are ideal for hitting on bigger or smaller trout depending on where you're fishing.
Pros
Reliable and effective for a variety of fish
Available in multiple sizes and species
More affordable than similar lures
Cons
Some users claim they don't provide the same action as the original Tracdowns from the 90s
Stock hooks could be sharper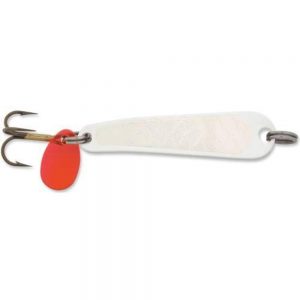 An affordable tried-and-true lure that's had a place in the tacklebox of the world's best anglers for decades, Hus-Lure from Luhr Jensen is one of the most popular and effective spoons you can cast.
This lure provides an erratic motion that's just like a wounded minnow, and it offers a shine and shimmer that few other lures can replicate. In fast currents, this lure does all the work for you, while a quick twitch of your rod tip is all you need to hit on trout in slower-moving currents.
This ultra-light lure is especially effective when used with light and medium-duty casting rods, and Luhr Jensen manufactures heavier alternatives to suit the needs of different anglers. Hus-Lures come outfitted with an undressed treble hook as well as a single hook.
While some say that Luhr Jensen doesn't make them as they used to since they were acquired by Rapala, tons of anglers rely on these popular spoons to land monster trout in a variety of different fishing conditions.
Pros
Affordable
Especially effective in fast-moving waters
Long-lasting shine and shimmer
Cons
Poor QC – some come with a flasher while others don't
Doesn't sink as well as some other ⅛ oz lures

A classic spinner that's engineered to provide even more action that trout can't seem to lay off of, the Blue Fox Super Vibrax is a proven winner.
Anglers who fish in rivers and streams reach for Super Vibrax lures more than any other lore. While it's difficult to pinpoint why trout seem to love it so much, the vibrating action of this lure could hold the key.
Not only is the blade textured, but a free-turning gear vibrates as it knocks into the outer body of the lure, which further adds to this lures action in the water. It may not look like much, but trout can't seem the resist the realistic behavior of this lure, and they often mistake it for one of their favorite meals.
Available in several different weights and blade sizes 0 through 6, you'll be able to find a Super Vibrax that's ideal for virtually any fish you're targeting. Each lure comes in many different colors and patterns, some with ultra-bright paint and metallic flecks which seem even more irresistible to the fish.
Rounding out the Super Vibrax is an evenly tempered and ultra-sharp VMC treble hook which is stronger and more durable than typical stock hooks included with most trout lures.
Pros
Unbeatable versatility
Vibrax technology emits an audible sonic pulse
Well made with high-quality components
Cons
Prone to rust
Not particularly effective for larger trout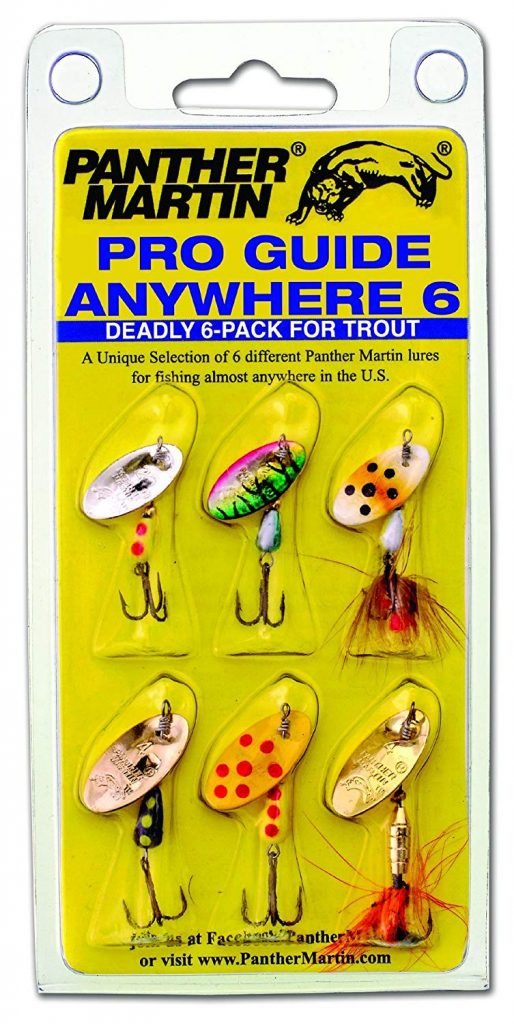 Any angler worth their weight in trout has a few Panther Martin lures kicking around in their tackle box. For decades, these lures have been a go-to lure for scores of anglers thanks to their reliability and deadly effectiveness. This kit includes six of their most popular options.
For this kit, Panther Martin provides their six most popular lures providing anglers with versatility and proven effectiveness that they need to target a wide variety of fish in virtually every scenario.
These lures feature Panther Martin's patented shaft-thru-blade design, which provides the fastest spinning action of any lure on the market. The concave and convex design of the spoon coupled with the fact that it's attached directly to the lure produces sonic vibrations that trout go wild for.
Unlike other kits which offer either dressed or undressed lures with no assortment, Panther Martin offers a few dressed lures along with four undressed lures, adding even more versatility to this popular six-pack.
At under $4 a lure, it's hard to believe that these lures are made in the USA, but they are, and they provide the reliability and effectiveness that top anglers have demanded for decades.
Pros
Great assortment of popular spinners for any fishing scenario
Made in the USA
Ultra-fast spinning action
Cons
Only includes one size
Not effective for larger species
Comparing the Top Lures
Lure

 

Type

 

Price

 

Highlights

 

Mepps

Trouter

Killer Kit 

 

Spinner

 

$$$$

 

Includes 6 lures, all brass bodies, plated spinner blades

 

Rebel

Tracdown

Minnow TD50 Lure

 

Slow-sinking

 

$$

 

Ideal for trout, bass, and salmon, realistic behavior, great for working specific depths

 

Luhr

Jensen ⅛ oz. Hus-Lure

 

Spoon

 

$

 

Erratic motion, great in faster waters, affordable

 

Blue Fox Super

Vibrax

 

Spinner

 

$

 

Available in tons of finishes and weights, sonic vibration, great flash and action

 

Panther Martin Pro Guide Anywhere 6

 

Spinner

 

$$$

 

Includes 6 lures, ideal for all conditions and multiple species,

sonic vibration

 
Final Verdict
When it comes to trout fishing, good lures can make the difference between a day full of action, and a quiet day on the water. Selecting the right lure requires consideration of environmental factors, what species your fishing for, and some old-fashioned fish luck.
The best trout lures make it easy to hit on fish in a variety of different scenarios, and each lure we've covered above makes a solid choice to add to your tackle box. Based on where you're fishing and what you're fishing for, you'll have a much better idea of the best trout lures for you.
Recommended Reads: