Northern Pikes are on the "must catch" list of many anglers. With the ability to reach up to six feet in length and around 60 pounds, catching these prehistoric serpentine-looking fish with needle-sharp teeth is a welcome challenge. Like other species of fish, Northern Pikes prefer some types of lures than others.
Without the right type of lure, you may spend most of your fishing trip trying to track down the elusive fish with no luck. We take a closer look at lures best-suited for catching Northern Pike and share some of our favorite top-rated lures to consider on your next fishing excursion.
Bottom Line Up Front
MeppsAglia Spinner is our favorite Northern Pike lure. Not only is a reliable option for beginners, but can help experienced anglers consistently catch decent-sized Northern Pike. Many lures have flashy designs with a lot of "extras." Mepps spinner has a simple yet effective design.
Not sure if our favorite is the best choice for you? Read on to learn more about the different types of Northern Pike lures and some considerations before you buy.
Different Types of Northern Pike Lures
Whether you're a veteran angler or new to the world of fishing, you probably already know that there are dozens of different types of lures for various species of fish.
Even though you may have success landing a Northern Pike with whatever kind of bait you have in your tackle box, these lures are best suited for catching Northern Pike.
In-Line Spinners
In-line spinners have a metal blade, weighted body, and dressed treble hook which is attached to a wire on the lure. When the lure is in the water, the blade spins quickly and creates flashes and vibrations, which entice the fish and attract a bite.
Size plays an integral role in spinner blades. If you're trying to catch a larger fish, like Northern Pike, it's best to look for an in-line spinner lure with larger blades. Not only does a bigger blade catch the eye of a large fish more quickly, but it also makes a more significant vibration.
Like the blade, the weighted body is available in a variety of sizes. When aiming for large fish or fishing on moving bodies of water like a river, you should consider a heavier body. Treble hooks often come "dressed" with synthetic fur or other fibers. If you prefer an "undressed" treble hook, there are many in-line spinners available without dressing.
Both blades and dressings are available in bright colors, which mimic some of the smaller baitfish that Northern Pike typically goes after. Selecting lures with white, chartreuse, or yellow are eye-catching colors for Pike, as the colors resemble the belly of baitfish.
Spoon Lures
Take a quick look at a spoon lure, and you might think its design is too simplistic. Spoon lures are typically metal and oblong-shaped. Similar to the blade on an in-line spinner lure, the spoon lure has a design to catch the light and make reflections under the water.
Most spoon lures are polished silver while others have colors and dressings above the spoon or near the treble hook.
Plugs
Plugs are made of wood or plastic and have a design that resembles minnows or other bait. Most plugs have two to three treble hooks, and depending on the design, the lure can float on the surface or dive in deeper areas.
As you pull a plug through the water, the colors and motions mimic the type of fish that Northern Pikes prefer.
Spinnerbait
Similar to in-line spinners, spinnerbait lures have blades that spin, flash, and vibrate to attract Northern Pike. Spinnerbaits typically have more than one blade on an overhead shaft. A weighted body and the treble hook is on the lower shaft.
Soft Lures
Soft lures are similar to plugs but have soft rubber or plastic that feels more realistic to a hungry Northern Pike. Although hard plugs have "flashier" colors, soft lures provide texture, and sometimes synthetic scent, that feels and tastes like live bait. Many soft lures are colorful and even accents that will help to catch the light under the water.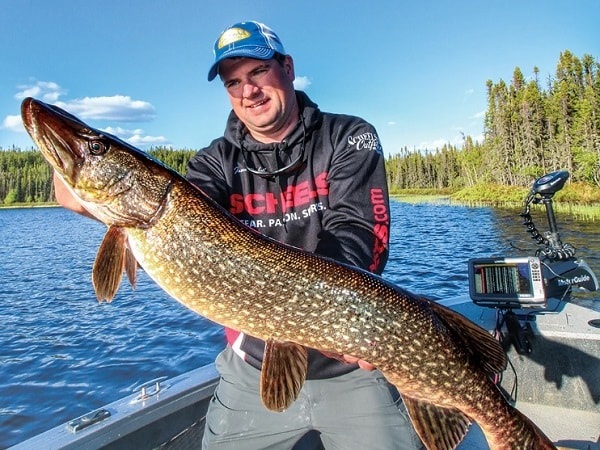 How to Find the Best Northern Pike Lures
Now that you know a little bit more about the different types of Northern Pike lures, here are some factors to consider when shopping around for lures.
Color
Silver lures can reflect light in a way that will attract Northern Pike, but you may want to consider lures with color to grab their attention more easily. In the spring and early summer, Northern Pikes is drawn to smelt, so white and silver lure best represent these small fish.
Other colors that are effective include fluorescent orange, chartreuse, blue, and gold. Don't hesitate to try lures with different color variations, but you may not get the same results.
Blade Size and Styles
Blade sizes and styles vary. While one Northern Pike angler will insist on size and style that works best for them, it's often an angler's preference. Some anglers recommend using blades that are between a #12 to #20, but some like to use a #8 or smaller. One size isn't notably better than another, so keep in mind that you might want to have an assortment.
Blade styles vary as much as they do in size. A Colorado blade, for example, is a broader and shorter than other styles of blades like the Willow blade. Colorado's teardrop design allows for more vibration in the water.
The Willow blade resembles a willow leaf and is flashier in the water. Willow blades are a little slower in the water and give off less vibration.
Other types of blade styles to consider include:
Wide willow leaf blades
Indiana blades
Deep cup Colorado blades
French blades
Again, like the blade size, the style you choose is more of a preference, and you might not know what you like until you try out a few different styles.
Purchasing Options
Most anglers know that even the best anglers with the most experience lose bait and lures every so often. Fishing gear is usually not known for its affordability, but lures are relatively inexpensive.
If you don't want to cut a fishing trip short because you run out of lures, it's best to stock up when you can. Most top-rated lures are available bulk, so don't hesitate to buy in bulk and select a variety of sizes and styles. Another benefit to buying more than one lure at once is a discount in price.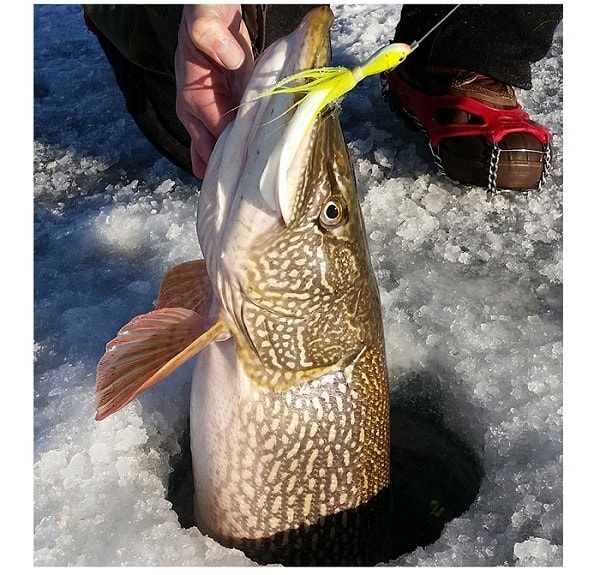 Best Times of Day and Year to Fish
When you're trying to determine which type of lure will work best for catching Northern Pike, it may help to think about what time of day and year that you plan on fishing.
Since Northern Pike are born in the sandy shoreline areas of rivers and streams, they tend to stick close to these areas during the spring. When fishing in these shallow waters, you can use lures that are more lightweight.
As the season continues, Northern Pike will take cover in the weeds. You may require heavier lures with bright colors that catch the eye of your potential catch. During the fall, Northern Pike is likely to hang out in deeper water as long as there aren't too many Muskies.
If you're not finding fish in the shallows, you'll want to select heavy and colorful lures to catch the attention in dark and deep water.
Early morning is the best time of day to fish for Northern Pike, and larger lures often catch their eye, especially when the water is calm. Right before dusk is another good time to fish, as they are on the hunt for one last bite before the sunsets.
Consider the color and weight of your lure depending on the water depth and whether or not it's calm or choppy.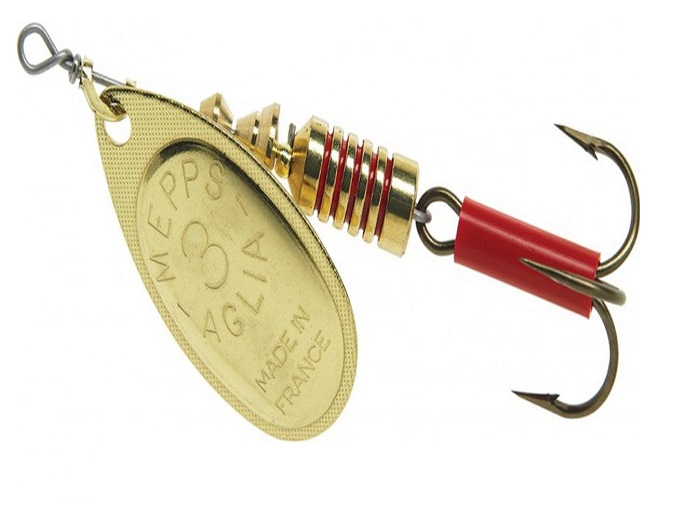 If you're looking for a "tried and true" lure with a simple design, MeppsAglia Spinner is a popular choice among some of the most experienced Northern Pike anglers. Mepps lure has a French concave blade, which has similar characteristics to the Colorado blade but is more of an elongated teardrop shape.
French blades have a continuous high-pitch vibration and little to no resistance as they cut through the water.
The lure's treble hook comes "undressed" with a colorful sleeve, which encourages striking, but if you have experience with dressing your own lures, Mepps Spinner lure should be easy enough to outfit with your own dressing.
A stainless-steel shaft on the lure means that you can use the spinner for years to come and never worry about rust or corrosion. Depending on the color of blade you select, you have a choice between silver or gold plated, polished brass, or Epoxy paint.
Color options include chartreuse, rainbow trout markings, and other "Pike-friendly" colors like Hot Fire Tiger (orange/yellow/green) and silver. Blade sizes vary from 0 to 5, which include 1⁄2 to 1/12-ounce options.
Pros
Heavy-duty stainless steel construction
Numerous blade color and size options
Lure size is best for catching medium size Northern Pike
Cons
Blade size is smaller than other types of lures
May not be the best lure when trying to catch larger Pike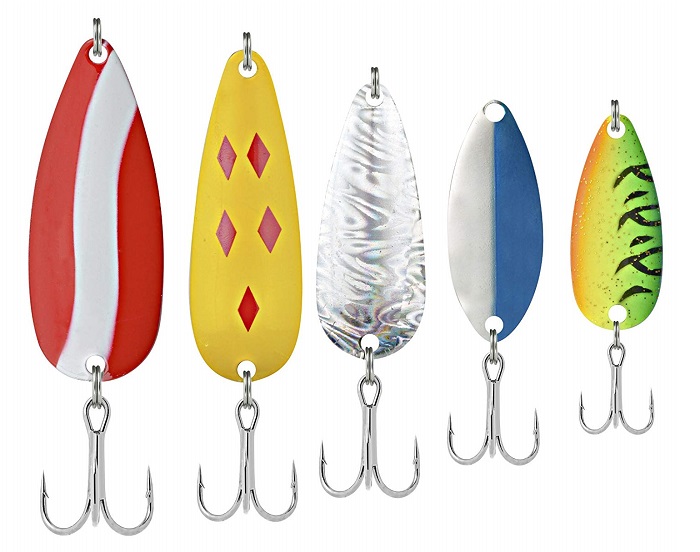 SouthBend Super Spoons come in a variety of sizes and colors, and this assortment includes two ⅜ oz., one ¼ oz., and two ⅕ oz. Spoon style lures. One lure is brushed silver, one is red and white, and the other three have "Pike-friendly" colors in orange, black, green, and yellow. Stainless steel treble hooks are extra sharp less likely to corrode or rust.
Although spoon lures don't look as realistic as other types of lures, the shape and the way it moves throughout the water is similar to injured baitfish. Not only does the movement catch the eye of a Northern Pike, but the color variation will flash in the water.
An assortment pack like the SouthBend Super Spoon pack is an excellent choice for beginners or for an angler who is using a spoon lure for the first time. If you are using the lure in deep water, make sure the lure is heavy enough.
Pros
Variety of size and color options in the assortment
You don't need to buy individual spoon lures
The spoon action attracts more massive Northern Pike
Cons
Spoon lures aren't as effective in shallow water
Paint can fade and wear off over time, especially if the lure is used in rocky areas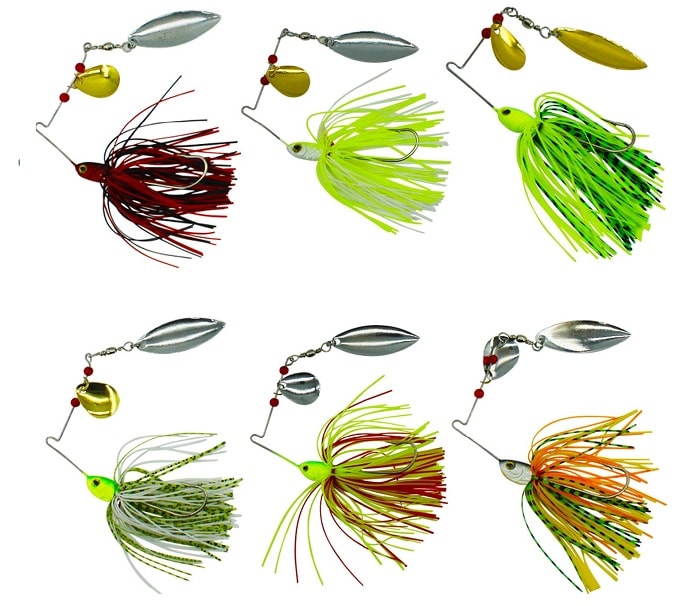 Shaddock Spinnerbaits are available in a set of six or nine. Each assortment has spinnerbait with a double Willow/Colorado blade, a hand-tied silicon multi-colored skirt (or dressing), and a steel wireframe.
With an open loop, swivel, and carbon steel hook, these spinnerbait lures are ready to use right out of the package. Blades come unpainted and are available in gold and silver to ensure proper light reflection. Each lure weighs approximately 0.64 ounces.
Although the spinnerbait has less vibration than other types of lures, the dressing and double-blade provide more of a visible flash in the water. As the spinnerbait moves through the water, the movement imitates injured fish, which attracts Northern Pike even more.
When using spinnerbait, it's important to remember to move the lure slowly through the water to keep it submerged; otherwise, it may hang out closer to the surface.
Pros
Sturdy construction and ready-to-use right away
Color and design perfect for luring Northern Pike
Steel parts less likely to corrode
Cons
Blades are only silver and gold
Silicon skirts can fall apart or breakdown overtime
Spinnerbaits get tangled in weeds more easily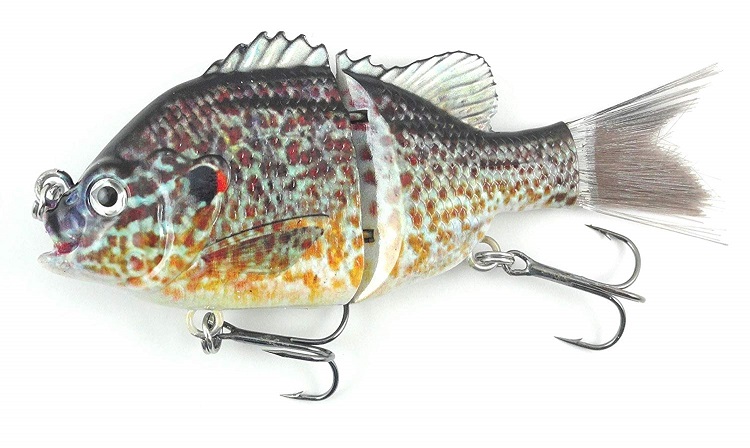 When your fishing for larger Northern Pike, sometimes you need to try to grab your biggest and most realistic looking lure. Live Lures Bluegill Swimbait is an excellent example of a heavy-duty and realistic swimbait. While Northern Pike will attempt to snatch up anything if they are hungry enough, it never hurts to go for realism whenever possible.
Measuring at five-inches, this swimbait is 2 inches in height and weighs just over 1.5 ounces. With markings like bluegill, there are also synthetic fibers on the tail to simulate the feel of fins.
Although some swimbait lures are one-piece, this one has a single joint in the center to help create realistic swimming action. Two treble hooks are attached to the bottom of the swimbait; one near the front and the other near the tail.
Pros
Ultra-realistic swimbait
Single-joint and bead balancing system to mimic real swimming action
Two carbon steel treble hooks
Cons
The size of swimbait may deter other sizes of Northern Pike, which may limit your catch options
Double treble hooks can catch on weeds in shallow areas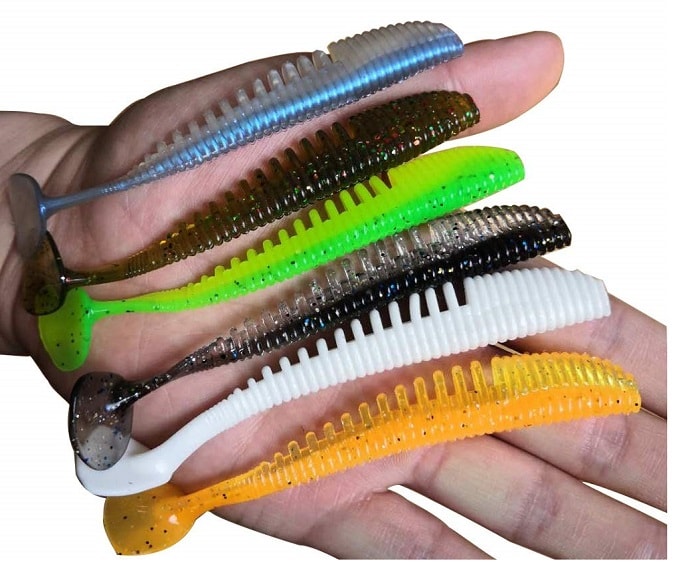 One of the reasons why some Northern Pike anglers are hesitant to use soft lures is because they are often too small and result in catching anything but Pike. YLQM Soft Fishing Lures are 4.3 inches long, which makes it some of the longer soft bait on the market.
YLQM soft lures come in six colors: blue, black, black and silver, white, green, and orange. The 24-piece pack has four lures per color.
Each soft lure has a flat paddle tail design which flaps and vibrates like a real baitfish and fish oil on each eco-friendly silicone lure helps to attract Pike. Excellent palatability is essential with soft lures, as it ensures more set hooks and these soft lures have better palatability than others on the market.
Pros
Realistic movement and feel
Environmentally-friendly materials
"Glitter" in the silicone helps lures flash in the water
Vibrant colors
Cons
Lack of realistic features
Soft lures don't last as long as other lure types
May snag or rip on other tackle or sharp objects
Comparing the Options
Final Thoughts
Every angler has their own tips, secrets, and favorite lures for catching fish. While trying out different types of lures is part of the fishing experience, it's always nice to narrow down your options and choose what works best for your preferred catch.
We wish that MeppsAglia Spinner had larger sized blades, but the heavy-duty steel construction and well-known reputation are enough to make this a "must-have" for every Northern Pike angler. If you don't like the Aglia Spinner, Mepps carries a variety of other lures, such as double blade spinners, that are suitable for catching Pike.
Recommended Reads