One of the pieces of equipment that you may want to add to your hunting pack is a trail camera. Trail cameras allow you to measure patterns and determine the precise location of the game that you're hunting. Trail cameras may not be necessary for the hunter who's just getting started, but it could be a worthwhile purchase for those looking to elevate their hunts to the next level.
When first browsing trail cameras, you may find yourself overwhelmed by the number of options available. Aren't most trail cameras the same? How could you possibly pick the best one for you? We're here to provide you with the best trail cameras for hunting and how to find them.
After reading this guide, you should have no problem choosing the trail camera that best fits your needs.
Bottom Line Up Front
Need to choose just one camera from our list? Consider the HyperFire 2 HF2X Covert IR Camera from Reconyx. The product is a bit expensive, but it's well worth your while. The camera comes with a five-year warranty. We liked the rapid trigger speeds and the fact that this camera is small enough to conceal anywhere in the woods.
The camera also shoots very high-quality photos and videos. It doesn't transmit, but it holds a storage card up to 512 GB. No matter if you set it to motion-sensor or continuous recording, this camera will produce high-quality images. The images are also time-stamped so that you can pinpoint the movements of the game that you're tracking.
Different Types of Trail Cameras for Hunting
When browsing for the best trail cameras for hunting, you'll find that there are different types available. You should consider cameras that best fit your needs. Some of the cameras on our list of the four best trail cameras are hybrids between some of these models.
Motion-Activated Camera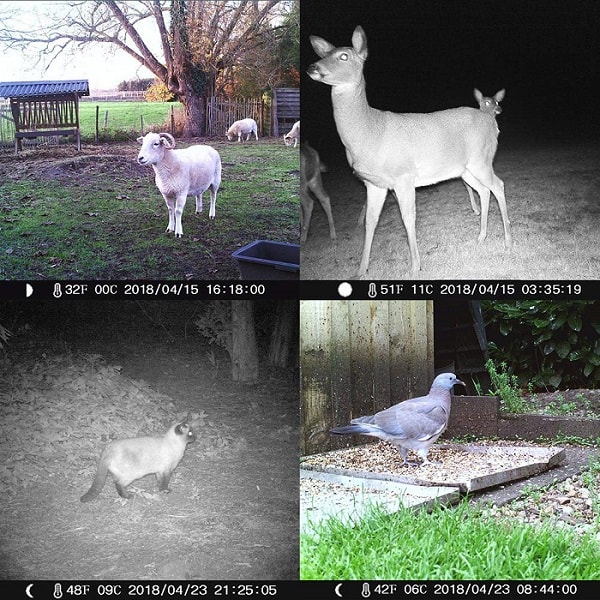 Motion-activated cameras are probably one of the most popular types of trail cameras available today. These cameras can last for a long time because they are not always on. Instead, they only turn on when they sense motion.
Motion detection can also make it easier to sort through images of the game that you're stalking. You may not be able to get to the camera to check it every day. You could have hundreds of hours of footage that you would have to fast-forward through. A motion-activated camera allows you only to see footage when an animal is near.
Infrared Cameras
Infrared cameras are another one of the most popular types of trail cameras available. They can shoot in all light conditions, whether it be day or night. These infrared cameras tend to be a bit expensive since they shoot in very high resolutions.
But if you're going after the game that is nocturnal or operates at night, this is the type of camera that you'll want to use.
These cameras are also designed for use in all weather. They are one of the sturdiest types of trail cameras available.
Flash Cameras
If you don't want to spend money on an infrared camera, you can instead look to buy a flash camera. Flash cameras lack the stealth that infrared cameras do. That's because they use a flash of light when they detect an animal. The cameras tend to provide good images.
The main problem with these cameras is that they can startle animals and cause them to run away. If the camera goes off enough, the animal may get to know the position of the camera and avoid the area, meaning you'd end up scaring away the target that you were trying to stalk.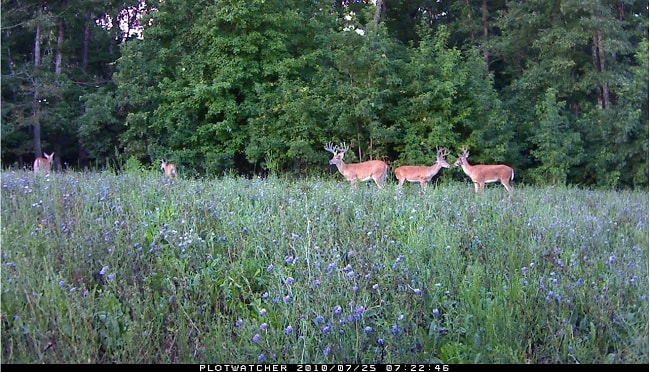 Cellphone Cameras
Another option that you have is a hunting camera that sends pictures to your phone. This could be a useful option if you have a smartphone and would like updates about the creatures in the area. Many cellphone cameras also have motion detection as well. Battery life can vary depending on the model that you purchase.
One of the most significant perks about these cameras is that you can install them easily. Because they operate remotely, there aren't many wires involved with the installation. However, these cameras don't always hold up well under extreme conditions. You may need to create a weatherproofing case to keep it safe.
Wireless Wi-Fi Cameras
These cameras are very similar to cellphone cameras. Instead of sending pictures to a cellphone, these cameras send them to a computer. While the cellphone cameras operate on a remote network, these cameras require a Wi-Fi network to function. If you plan on hunting in very remote areas, there's a strong chance that this camera will not work.
It's also possible for hackers to break into these cameras. If these cameras are infected, they could pass viruses to your computer when they transmit images. If you use these cameras, you'll also probably want to make sure that you have strong anti-virus software on your computer as well.
How to Find the Best Trail Cameras for Hunting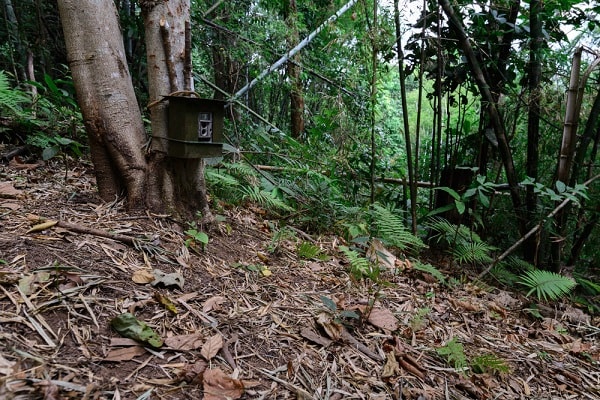 Once you've figured out which kind of camera you want, there are other features that you'll want to have. Considering the following features will ensure you know how to find the best trail cameras for hunting. These are the features that we used when reviewing and ranking our list of the four best trail cameras for hunting.
Quality of the Image
The camera's image quality is perhaps the most important feature to consider. Cameras provide pictures in megapixels. The more megapixels, the higher the resolution. The higher the resolution, the clearer the picture will be. The best trail cameras can have megapixels that go as high 20. The cheapest models will typically only provide one or two megapixels.
For those looking to buy their first trail camera, we recommend looking for at least five megapixels, although seven is more ideal. This is also the case if you use infrared or flash cameras. You'll need higher resolutions when capturing nighttime photos.
Transmission and Recording Options
The other critical feature that you'll want to consider is how the camera records or transmits footage. Some cameras record directly to the device. These cameras have a lockable internal storage card, which means others cannot hack into them. This also means that you'll need to visit the camera each time you want to view images. You'll need to ensure that you have enough memory and battery life depending on how long you go between visits.
If you would rather have up-to-date images, you may prefer a camera that transmits them over a Wi-Fi or mobile network. You'll likely have to pay more for these cameras, and there are some security concerns with them.
Battery Options
Battery life is another feature that you should be concerned about. Some cameras run on standard alkaline batteries, while others are rechargeable. The ideal choice likely depends on how much you'll use the camera.
Also, consider factors that will make it drain more. For instance, if the camera records 24/7 or uses infrared, it will drain the battery more quickly.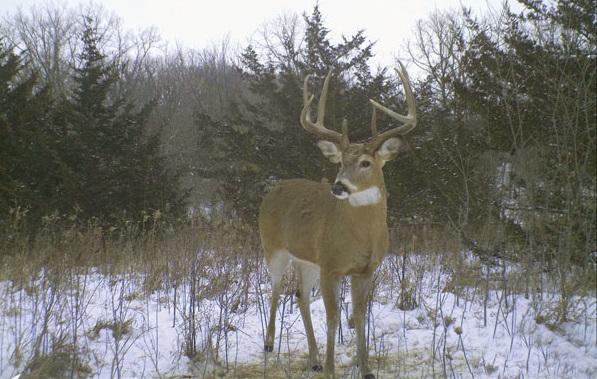 Weatherproofing
Because your camera is outdoors, it needs to be weatherproof. The best trail cameras don't have a problem with this, but it's something that you'll want to keep in mind. Think about the types of elements that you'll expose it to and make sure that the camera is rated for those conditions.
For example, if you're not someone who hunts in the winter, you don't need to worry about the camera withstanding freezing temperatures.
Trigger Time
The last feature that you need to consider is the camera's trigger time, which is the time between when the camera detects movement and when it takes the picture. The best trail cameras have trigger times that are less than one second. The higher the trigger time, the more you risk the animal leaving the detection zone before the camera takes the picture.
Trigger time may not be vital depending on the type of animal that you're hunting. If you are hunting animals that tend to graze and linger, then trigger time likely won't be that big of a concern. But if you're into something that's a bit nimbler, then trigger time will be of the utmost concern. The faster the trigger, the more expensive the camera.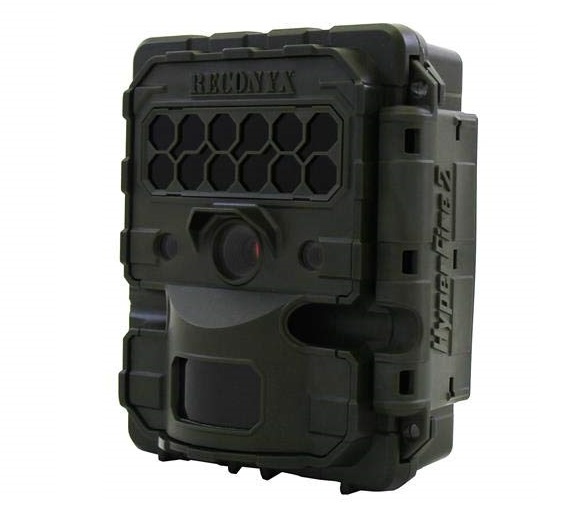 Trigger Speed: .25 seconds
Measurements: 4.5" W x 5.5" H x 2.5" D
If you don't mind investing in a high-quality trail camera, then the HyperFire 2 HF2X Covert IR Camera from Reconyx is the option for you. You'll receive color images during daytime shots and monochrome infrared images at night. Reconyx also included a NoGlow GEN3 High Output Covert IR illumination mechanism that provides a flash range of 150 feet.
This camera records video for hunters. The video is high-quality 720P. The video comes with audio as well. The camera relies on motion sensor technology, however, so you won't be wasting battery life or recording storage space. The images come stamped with the date, time, moon phase, and current temperature so that you can properly time your
This camera does not transmit images. The camera remains locked thanks to CodeLoc Pass-Code Protection. You can view the images on a computer using BuckView Advanced software.
Pros
Rapid trigger speed means you won't miss a shot
Shoots both pictures and videos
Accepts up to 512 GB of storage
Secures using a digital passcode
Digitally-stamped photos
Cons
A bit pricy
Doesn't transmit photos
Does not come with a physical lockbox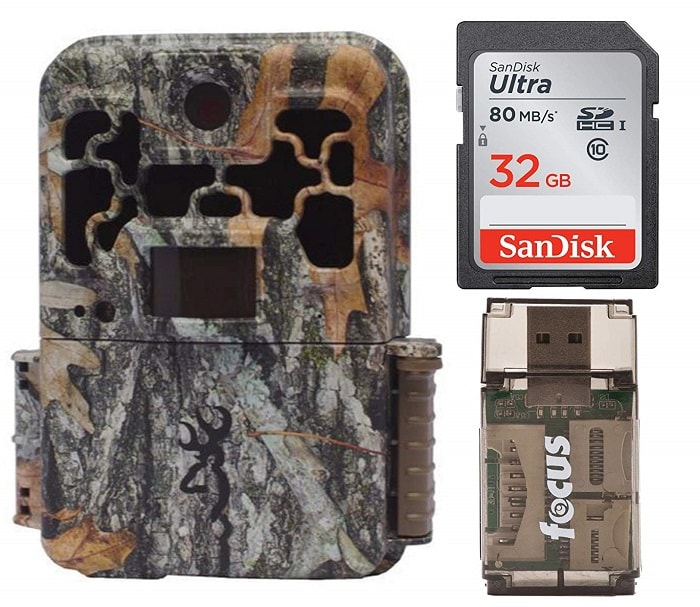 Trigger Speed: Adjustable between .4 seconds and .7 seconds
Measurements: 10" x 8.1" x 6.7"
If you're looking for a more affordable trail camera, then you'll want to look into this option from Browning. The camera shoots high-quality pictures that are 20MP. It also records in 1920 x 1080 HD video as well.
Customers will find that they can adjust the trigger speed on this camera. The camera comes with Night Vision IR illumination as well. The camera has a detection range of 80 feet, which allows you to capture a full range of images.
One of the other things that we really liked about this camera as that it carried a .6 second recovery time. This essentially operates as a "burst" feature. The camera is always ready to take the next photo. This device can shoot up to eight rapid-fire images at a time. You can store photos thanks to the Focus USB 2.0 Card reader
Pros
Pictures and videos are remarkably clear
The detection range of 80 feet
Adjustable trigger speeds
2" color viewing screen allows you to view photos instantly
Quick recovery time
Cons
The storage is only 32GB
Some customers found it challenging to set up this device
Does not transmit video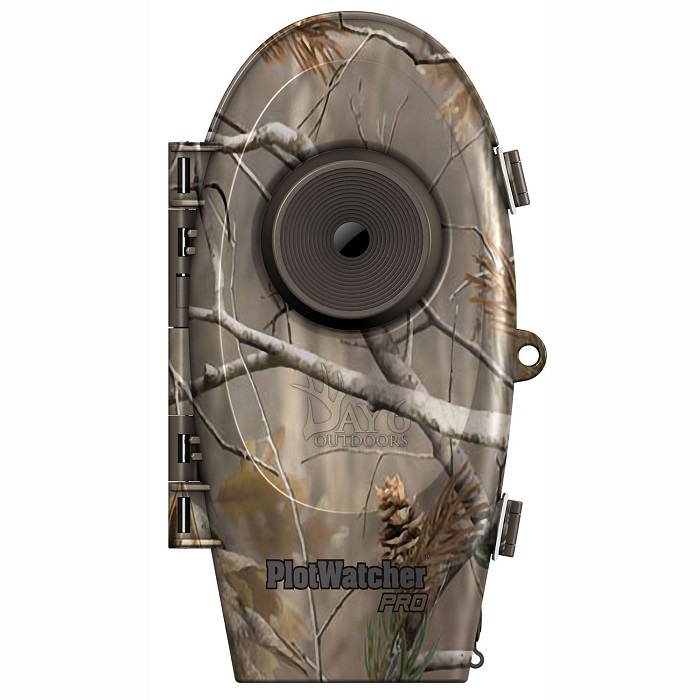 Trigger Speed: Five seconds
Measurements: 3" x 4.4" x 7.8"
If you need a functional trail camera, you should check out this option from Day 6. One of the things that stood out the most was the battery life. The camera runs up to four months on a single set of batteries, which is 20-times longer than the average trail camera. In that time, it can record up to one million images on its 32GB storage card.
We also liked how easy it was to view pictures on this device. It comes with a 2.5" LCD screen. It also condenses photos down for easy viewing. Instead of having to scroll through every single photo until you find what you're looking for, the device condenses pictures down into a ten-minute time-lapse video. You can watch the videos on the PlotWatcher Pro.
Lastly, this camera stood out because it comes with a wide-range lens. Instead of relying on a short-range area to capture photos, which many motion cameras do, this device provides a greater field of vision so that you hunters can capture images even if the subject is far away.
Pros
The software automatically time-lapses pictures into a video
Supports a zoom lens
Bright LCD screen
Wide target window
Extended battery life
Cons
Small storage option
Does not work well at night
The camera does not seem to focus that well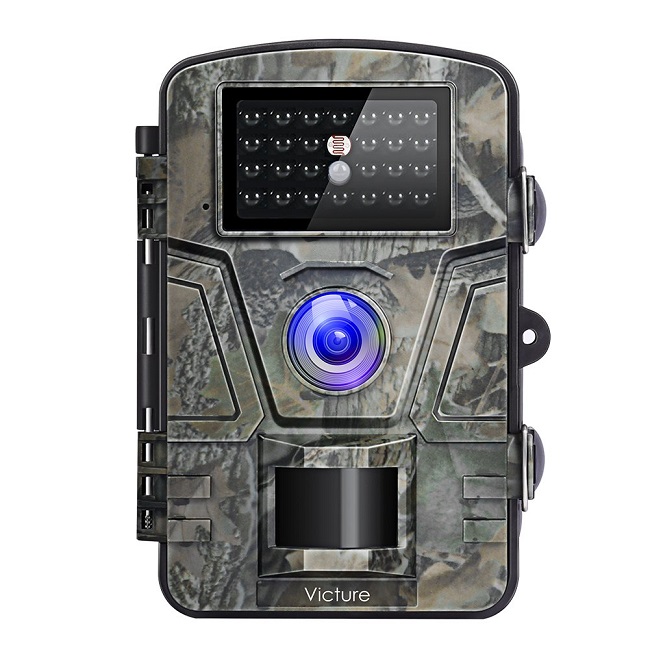 Trigger Speed: .5 seconds with three continuous shots
Measurements: 5.3" x 3.8" x 2.8"
If affordability is your concern, then this is the trail camera for you. You can purchase it for around $40. It will provide you with great value. One of the things that stood out the most was the lightning trigger speed, which was .5 seconds. Hunters will also find that there is no-glow infrared technology, which leads to clear images.
One of the other reasons you'll receive clear images is because they are shot in 12 MP. The camera comes with a sensor that detects whether it is day or night outside and adjusts the light accordingly. The night vision photos appear in black and white.
Customers can also take full HD video with the camera as well. Hunters will find that they can accurately study a game animals' habits and patterns with the use of this camera.
Pros
Very affordable
Wide view and clear images
Works with rechargeable batteries
Performs in freezing cold temperatures
Can run continuously if connected to an external supply
Cons
Does not come with batteries or an SD card
Customers said that getting this camera set up was challenging
Adjusting the motion sensor is not easy
Best Trail Cameras for Hunting – Comparing the Options
| | | | | | |
| --- | --- | --- | --- | --- | --- |
| Product | Cost | Warranty | Trigger Speed | Measurements | Where to Buy |
| Reconyx HyperFire 2 HF2X Covert IR Camera | $400 | Five-year manufacturer's warranty | .25 seconds | 4.5" W x 5.5" H x 2.5" D | Amazon |
| Browning Spec Ops Advantage 20MP Trail Camera w. Color Display | $200 | Unspecified | Adjustable between .4 seconds and .7 seconds | 10" x 8.1" x 6.7" | Amazon |
| Day 6 Plotwatcher Game Surveillance System | $305 | Can be requested from customer service | Five seconds | 3" x 4.4" x 7.8" | Amazon |
| Victure Trail Game Camera with Night Vision Motion Activated 1080P | $40 | 12 months from date of purchase | .5 seconds with three continuous shots | 5.3" x 3.8" x 2.8" | Amazon |
Final Thoughts
When going on your next hunting expedition, you need to make sure that you have the best equipment available. Not only does this include camo and rifles, but trail cameras as well. Trail cameras are useful for helping you to stalk and hunt your prey.
We stand behind all four of the options on our list. However, if we had to pick just one, we'd go with the HyperFire 2 HF2X Covert IR Camera from Reconyx. During testing, this camera proved to be the best available. With rapid trigger speeds, high-quality video, and ample storage, this camera is well worth your investment.
No matter which option you choose, you should find yourself satisfied with any of the options on our list. Be sure to pick up a camera and start scoping out your next hunting location today.